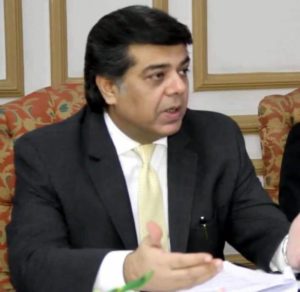 ISLAMABAD, Pakistan: The federal government has appointed Sardar Ahmad Nawaz Sukhera as the Secretary Board of Investment (BOI), Pakistan's premier investment promotion body.
In this regard, a notification was also issued on Wednesday (November 14, 2018) by the Establishment Division.
"The Federal Government has been pleased to approve appointment/posting of Sardar Ahmad Nawaz Sukhera, a BS-22 Officer of Pakistan Administrative Services, presently awaiting posting in Establishment Division, as Secretary, Board of Investment, in terms of Section 5 (I) of the Board of Investment Ordinance, 2001, with immediate effect and until further orders," said the notification.
The approval to his appointment as the Secretary BOI was given in the Federal Cabinet meeting held in Islamabad on November 8 with Prime Minister Imran Khan in the Chair.
Sardar Ahmed Nawaz Sukhera previously served as the Secretary of Ministry of Information and Broadcasting as his last official assignment. He has a vast experience in various government-oriented tasks. He has held the additional charge of the Secretary BOI previously as well.
Ahmed Nawaz Sukhera also worked for SME development as the CEO of the Small and Medium Enterprise Development Authority (SMEDA), and developed Pakistan's five-year SME Development Plan.