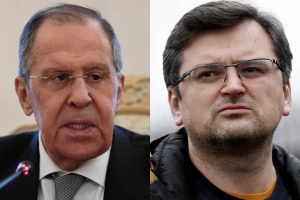 The peace talks between Russia and Ukraine ended without yielding any positive results as they made no progress on a ceasefire.
The Ankara-mediated talks were held between Russian the Foreign Minister Sergei Lavrov and the Ukrainian Foreign Minister Dmytro Kuleba in Turkey's Antalya City on Thursday to aver the humanitarian tragedy in Ukraine by reaching a ceasefire.
"Ukraine proposed a humanitarian corridor from and to Mariupol, as well as a ceasefire for at least a day to solve the humanitarian problems of civilians. The Russian side didn't accept it," the Ukrainian Foreign Minister Dmytro Kuleba said at a press conference after the meeting with Sergei Lavrov, as per foreign media reports.
"I am ready to resume negotiations. Today I've heard that a ceasefire is possible, provided Ukraine fulfills the conditions of President Putin. However, Ukraine does not give up. We will seek diplomatic solutions," Dmytro Kuleba said.
It was the first time when Russia and Ukraine held high-level talks since Moscow invaded its neighbour last month.