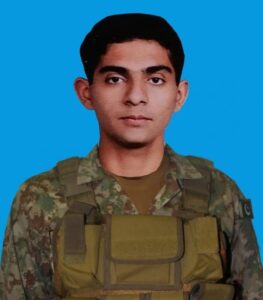 RAWALPINDI, Pakistan: A Special Memorial Service was held at the Royal Military College (RMC) in Duntroon, Australia to pay tribute to the Graduate of RMC Lieutenant Nasir Hussain Khalid Shaheed, the Inter-Services Public Relations (ISPR) said.
In a statement issued on Friday, the ISPR said that a floral wreath was laid at the RMC War Memorial on behalf of Australian and Pakistan armies.
The 23-year-old Lt Nasir Hussain Khalid was a resident of Muzaffarabad, and he embraced martyrdom along with two other Pakistan army soldiers in an improvised explosive device (IED) attack in North Waziristan on September 2.
The troops were providing protection to road construction teams working in Ghariom Sector on Road Shaga-Nishpa in North Waziristan when the IED planted by terrorists alongside the road exploded, resulting in their martyrdom.