MONITORING DESK: The revealing information has surfaced about an Indian couple who was arrested in March 2019 in Germany, reports Eurasian News on Monday.
According to previously available information, the couple namely Manmohan Singh and his wife Kanwaljit Kour worked for the Indian intelligence network and both were assigned to spy on Sikh and Kashmiri communities for the Indian secret service.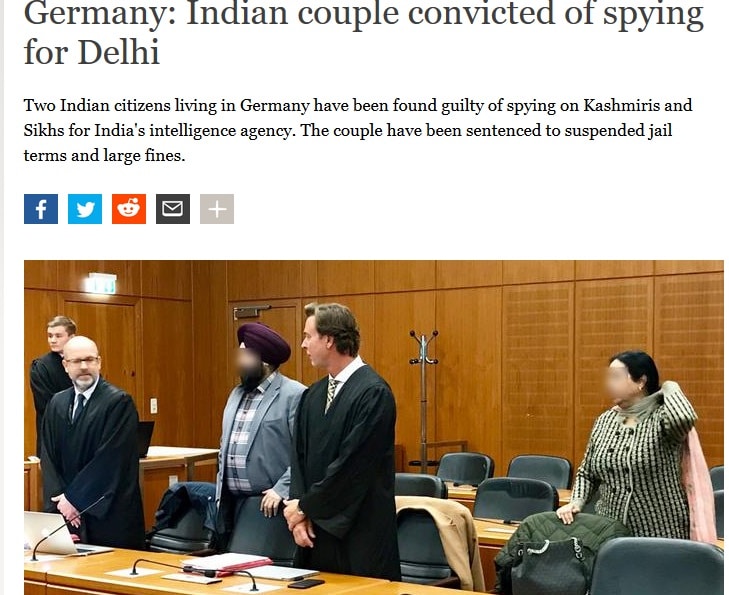 On December 13, 2019, a German Court sentenced them after they admitted to spying on Kashmiri and Sikh groups for the Indian foreign intelligence service. Manmohan was given an 18-month suspended prison sentence for espionage while his wife received a fine.
Related Story: Germany: Indian couple convicted of spying for Delhi
The court documents said the couple was paid more than €7,000 (£6,000) for passing on information to the Indian intelligence agency.
Now more serious information has surfaced, indicating that Manmohan and his wife Kanwaljit (Kanwal Jit K as stated by court) joined the Indian intelligence prime organization Research and Analysis Wing (RAW) in May 2015.
Related Story: German court sentences Indian couple for spying on Kashmiri and Sikh groups
The new information indicates that both were trained and equipped to monitor activities of Kashmiri and Sikh communities, particularly youth.
The couple agreed to convey the information of Sikhs and Kashmiris to an officer of the Foreign Intelligence Agency Research and Analysis Wing who was called as "Murli Bhai". The accused reported on the internal affairs of the Sikh temples in Cologne and Frankfurt, as well as on events in the Sikh community. Manmohan Singh attended regular meetings with an Indian intelligence officer accompanied by his wife. Manmohan and his wife Kanwaljit received 2000 euros a month for their work.
Unlike the US CIA or Britain's MI6, RAW reports directly to the prime minister instead of the Ministry of Defense. The chief of RAW is designated secretary (research) in the Cabinet Secretariat, which is part of the prime minister's office.
It also asserts a considerable amount of influence on India's foreign policy. The head of RAW has direct access to the head of state, to whom he provides input and analysis.
"The involvement of RAW in espionage using foreign soil has been substantiated by the arrest and conviction of Sikh couple in Germany but networking is spread all over the world, particularly in Central Asia, Eastern Europe, and Europe. Within the command of RAW, Defense Intelligence Agency (DIA) was designed and empowered to conduct trans-border operations and network of 265 websites across 65 countries, which was (are) aimed at influencing decision-making against Pakistan in Europe is work of DIA," said a retired official of intelligence networking he was asked to explain how India is operating trans-border in the 21st century.
He was of the view that European countries mostly opt silence over indulgence of Indian intelligence tentacles in diplomatic affairs using all available sources. He added that India is using its own diaspora abroad to accomplish intelligence-related jobs.