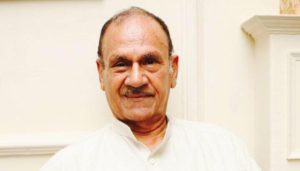 LAHORE, Pakistan: Well renowned TV and Film actor Ali Ejaz passed away after he suffered a heart stroke in Lahore on Tuesday.
The 77-year-old Ali Ejaz was receiving treatment for heart problem in a local hospital, which he had been facing for a long time.
The actor also suffered a paralysis some 12 or 13 years ago.
Ali Ejaz left behind a wife and two sons.
His funeral prayers will be offered after Namaz E Zuhr. His body will be taken from his residence in 41 D New Muslim Town, Lahore and buried at the local graveyard.
فلم ، ڈرامہ، ریڈیو اور سٹیج کےنامور اداکار علی اعجاز 77 سال کی عمر میں دل کا دورہ پڑنے سے انتقال کر گئے۔۔علی اعجاز نے 1967 میں اپنے کیرئیر کا آ غاز کیا۔۔خواجہ اینڈ سنز اور کھوجی ان کے مقبول ترین ڈرامے تھے۔#AliEjaz pic.twitter.com/ilx5UJArpD

— PTV News (@PTVNewsOfficial) December 18, 2018
Ali Ejaz began his film career in 1967 with a movie 'Insaniyat'. His famous films include Dubai Chalo (1979), Chor Machaye Shor (1996) and FBI Operation Pakistan (1971).
The actor also gave memorable performances in TV drama series Khawaja and Son (1985), Khoji and Sheeda Talli.
In 2015, he launched a social welfare project near Sialkot under 'Ali Ejaz Foundation', his non-government organization (NGO).
In his condolence statement, the Information Minister Chaudhry Fawad Hussain expressed deep sorrow and grief over the sad demise of Ali Ejaz, and minister prayed for eternal peace of the departed soul and fortitude for the bereaved family to bear this irreparable loss.
The minister said that with Ali Ejaz's death Pakistan has been deprived of a versatile artist and he will always be remembered due to his remarkable services in the film and TV arena.
Fawad Chaudhry said that the actor was a very talented artist who performed humorous and serious characters with command.