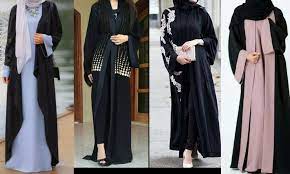 Have you ever considered that Abayas can be both basic and stylish? Rafia has introduced several fantastic designs and styles of Abayas and made exquisite Pakistani designer dresses. A wide range of colors and materials is used to make these graceful Abayas. Abayas have always been modest wear in Pakistani society. Women love to style in different abayas such as Arabic abaya, occasion abaya, open abaya, and kimono abaya.
A black headscarf can make a statement, evoking pure sophistication and a timeless aesthetic. Black is a versatile color that can create a nice contrast with a golden abaya or complement another light color. The choice is yours. The cream-hued Nude Viscose-Jersey headscarf is a nice alternative to pure black and looks excellent with any abaya.
Consider wearing a shade of red if you're looking for a truly foppish warmer months headscarf style this year. Choose to have a red which best represents you, from stonework hues to bold scarlets. Our darker, almost reddish color is a terrific look for this winter.
Now finding an abaya for every occasion is not a bigger deal. Whether you want to style in an open abaya or a luxurious occasion abaya, Rafia.pk offers so much on a pocket-friendly budget. To make your options wide, you must visit the website and get your hands on your favorite style and design.
We have a few tips to consider before you make a purchase:
Choose The Correct Style
Rafia.pk has trendy abayas in a wide range of colors, textures, and styles, as well as a thread of details that make each one of our abayas a one-of-a-kind and sophisticated addition to your modest outfits. You'll fall in love when browsing our vivid and varied assortment of abayas online, whether you're looking for a simple regular abaya for an extravagant party or special occasion women wear.
Do Check The Material
If you are looking for summer material, make sure you buy light fabric and light color abaya. Light shade abayas are always breezy and comfortable when it comes to wearing one on a bright sunny day. The fabric can be cotton and chiffon. In contrast, winter material can be a thick and bright color perfect for the winter season. The fabric can be jersey, silk, and viscous.
For What Occasion Are You Buying
See what occasion you are looking for an abaya for? If it is a daylight function, consider wearing a light hue. Whereas, a night party, wears something bright such as black or bottle green. You can style it with the matching headscarf that comes with it.
If you have decided to purchase, get your hands on the abaya you love. With Pakistani designer clothes, place your order for modest wear and enhance your abaya look for any upcoming event where you can stand out amongst the whole crowd.