Monitoring Desk: Russian President Vladimir Putin who arrived in Riyadh Saudi Arabia on Monday signed 20 deals of cooperation including oil deal in Al-Yamamah Palace.
Saudi King Salman and Crown Prince Mohammed bin Salman were present when Saudi and Russian officials inked deals of cooperation. Putin is visiting Saudi Arabia after his last visit of 2007.
Received by Riyadh Governor Prince Faisal bin Bandar outside Russia-1 aircraft, he was brought to Palace by Royal guards and Royal fleet comprising of a beeline of vehicles and horses.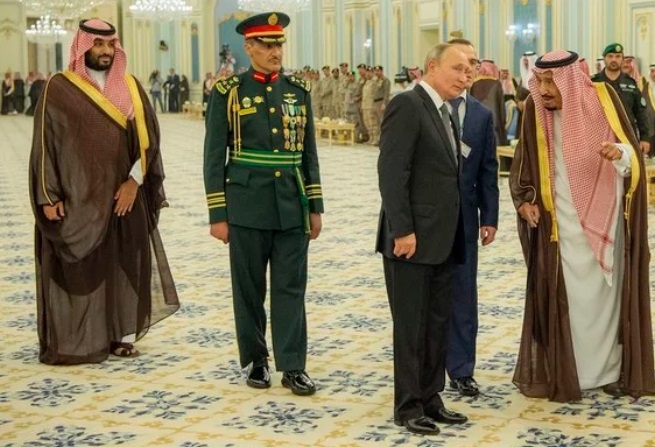 Regional observers believe that timing of Putin's visit is attention-grabbing because he can play a pivotal role to ease tension between Riyadh and Tehran.
It is pertinent to mention that Putin reiterated his stance in his interviews to gulf media on Sunday a day before his arrival to Riyadh) that attack on Saudi oil tankers must be investigated before pointing finger to any nation. It may be mentioned that United States and Saudi Arab blamed Iran for attack on Saudi oil infrastructures. It may be remembered that King Salman visited Russia in October 2017 and during his talks blamed Iran for terrorism in the region. Since then Saudi Arab and Russia are engage in joint investment in several projects including in the field of culture and economy.
Gulf media believes that Russia gained access back in Middle East by sending troops to Syria, where it save regime of President Bashar al-Assad while United States tried its best for regime change in Syria.
Since 2017, Saudi Arabia and Russia have managed to stabilize oil prices by constantly interacting and monitoring the market.
It is worth mentioning that Russian Direct Investment Fund (RDIF) and Public Investment Fund (PIF) of Saudi Arabia have jointly established a $10 billion platform. About $2 billion have already been invested.