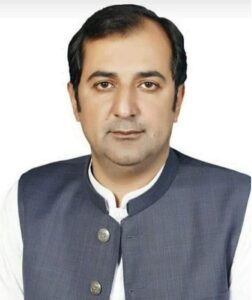 GILGIT, Pakistan: Barrister Muhammad Khalid Khurshid Khan has been elected as the third Chief Minister of Gilgit-Baltistan with a sweeping majority for the next five-year term.
The election for the slot of Chief Minister was held at the Gilgit-Baltistan Legislative Assembly in Gilgit on Monday.
In the election, Khalid Khurshid secured 22 votes while his rival Pakistan People's Party (PPP) Gilgit-Baltistan Chapter President Amjad Hussain Advocate received 9 votes.
Amjad Hussain was vying for the post of the Chief Minister Gilgit-Baltistan as the Joint Opposition Candidate.
#PTI nominated MLA elect Khalid Khurshid has submitted nomination papers for the Chief Minister's position.Meanwhile, Joint Opposition alliance has as also nominated #PPP President Amjad Advocate for the top slot.The elections for Chief Ministership will be held at 4 pm today. pic.twitter.com/2wA0qc0KmI

— Gilgit-Baltistan Times (@gbtimes) November 30, 2020
The swearing-in ceremony of Khalid Khurshid as the new Chief Minister of Gilgit-Baltistan and his Cabinet will be held on December 2 at the Governor House in Gilgit.
The Governor of Gilgit-Baltistan Raja Jalal Hussain Maqpoon will administer the oath to him.
Prime Minister Imran Khan along with the Federal Minister for Kashmir Affairs & Gilgit-Baltistan Ali Amin Khan Gandapur and the Pakistan Tehreek-e-Insaf (PTI) Chief Organizer Saifullah Khan Nyazee will also attend the swearing-in ceremony.
The PTI's Khalid Khurshid was elected as a member of the GB Legislative Assembly from GBLA-13 (Astore-1) Constituency in polls held on November 15, 2020 by defeating the PPP's Abdul Hameed Khan by a margin of 1,719 votes.
Earlier in his first interaction after being nominated for the post, he reiterated that uplifting of deprived and backward areas, merit-based institutional reforms, providing basic education and healthcare facilities, maintaining peace & harmony, resolving issues of electricity and gas, promoting tourism industry, ensuring good governance, and adopting mitigation policies for Climate Change will be his top priorities.
Khalid Khurshid further said that he will follow the vision of the incumbent Prime Minister of Pakistan and the Chairman PTI Imran Khan and serve all with dedication and without any discrimination.
صحت اور تعلیم ہماری حکومت کی اولین ترجیح ہوگی۔ میں اپوزیشن جماعتوں سے بھی گزارش کروں گا کہ وہ گلگت بلتستان کی ترقی میں ہمارے شانہ بہ شانہ کھڑے رہیں اور اپنا کلیدی کردار ادا کریں۔ pic.twitter.com/smDnaBnRP8

— Muhammad Khalid Khurshid Khan (@AbdulKhalidPTI) November 30, 2020