By Shazia Anwer Cheema
Since the first mega event of Pakistan Tehreek-e-Insaf (PTI) that was held in Minar-i-Pakistan Lahore on October 30, 2011, I take PTI as one of the best performing troupes in Pakistan's history. Since then theatrical performances of PTI have become more mature even surpassing reality. Every performance of PTI Chairman Imran Khan is a mix of lighting, sound, music, dancing, and a protagonist delivering a sermon in the middle of the stage like any Byzantine Theatre.
With every passing day, PTI performs with better techniques and a new script with a catchy title for the show. The latest script and its punchline is "Leader is more important than State". I am figuring out what PTI leadership wants to get out of this new script. I think this script/narrative is linked with what Imran Khan had been promoting well before placing him as a greatest Leader.
When state-run television PTV started broadcasting Urdu dubbed Turkish serial "Ertugrul Ghazi", I wrote that someday Imran Khan would place him as today's "Ertugrul Ghazi". My background discussions with some of my friends in Pakistan got me a lead that the idea of promoting Ertugrul Ghazi did not come from Imran Khan but from someone else who decided to promote Imran Khan as "the greatest hero of Muslim Ummah (world)".
When you listen to the dialogues of Ertugrul Ghazi (dialectical influence), you get inspired by his opinions, views, and beliefs that laid the foundation of the Ottoman Empire. Ertugrul Ghazi teaches us that State can be dismantled and redesigned by leaders. Ertugrul Ghazi tells us that State is not important but the Leader is. I believe Ertugrul Ghazi was shown to the Pakistani public to prepare our minds that leaders bring a "New State" and "leader is more important than State". We must remember that the philosophy of Ghazi for developing a new state by dismantling an already existing state was for achieving an independent state against the hegemony of Byzantine and Mongols and he was a son of a stateless tribe.
PTI has chosen the best time to promote its new narrative "leader is more important than State" while PTI was caught playing tricks with the state of Pakistan over the issue of writing a letter to IMF to stop loaning Pakistan which is fighting for its economic survival.
As usual, PTI is promoting the narrative/slogan "leader is more important than State" through a theatrical performance I enjoyed last night. The storyline was that rescue, relief, and rehabilitation of natural catastrophes can be done in a couple of hours by a "Leader larger than State" and such a supreme act does not need any administrative structure, foreign affairs support, or bureaucracy to roll the things. A true hero has to be focused on achieving goals larger than life such as "Haqiqi Aazadi" and petty matters like death and destruction are momentary hurdles in pursuit of a greater goal.
Imran Khan does not hesitate to stage a lie and does not ponder how he will keep his face. History will remember him as a legend and most of them have distorted faces, a mixture of fauna and flora so I understand if Imran Khan shamelessly keeps lying and initiating bizarre ideas, it is because the face is not his priority.
Protagonist Imran Khan was not convinced in the first place that "a true hero" needs to stop his crown chasing by organizing public gatherings with the state resources instead he should do something for flood victims, Imran Khan's mocking reaction to this suggestion was that he had a long experience of asking people for money and he can collect money in one night that other "thieves" cannot even imagine.
Not until a brutal fiasco and failure of the Jhelum public meeting, Imran Khan staged a theatre through telethon to prove his point that a relief and rescue mission is one window and one-night operation. All the characters gave a marvelous performance last night, money was pouring like rain, and Imran Khan collected Rs.500 crore in just three hours. During the performance, one gentleman pledged three million Pakistani rupees and demanded anonymity. Anonymity could have been possible if the gentleman had decided to put a money sack and put it in front of a needy door like in the old days, but today money must be clean and can only be transferred via bank so the desire to be anonymous will compromise so as the flaws in the stage drama.
The theatricality was no doubt convincing but with major production default, Imran Khan's dramaturge missed the point that money does have feet and leaves footprints only lie cant pace, it is a matter of days when the façade of money telethon will shatter and the truth will surface, but who cares, Imran Khan a larger than life hero with a larger than life goal cannot pay heed to these morality issues, everything is compromise-able, self-respect and dignity are shallow traits for the weak and history do not remember the weak and the meek. History is comprised of warriors and legends.
Imran Khan does not hesitate to stage a lie and does not ponder how he will keep his face. History will remember him as a legend and most of them have distorted faces, a mixture of fauna and flora so I understand if Imran Khan shamelessly keeps lying and initiating bizarre ideas, it is because the face is not his priority.
Imran Khan with systematic, resourceful planning defying every act which is necessary to run a state, he even did not change his narrative line for the calamity even that Pakistan is facing these days, he made fun of all those who are acting as a state agent to keep the state functional, Imran Khan's core idea is to flout every rule that state is following, he wants to prove that state machinery is doing unnecessary things, they are neither important nor necessary, the time and money must be invested into his cause of dismantling the state, the hue and cry for relief money are futile, money can be collected in three hours and rescue can be done in a couple of more hours so whatever state is doing is useless.
This State should not even exist in the first place, State affairs, foreign policy geopolitics, and geo-economics will be dealt with when a true State will be constructed, till then everything is comic for Imran Khan, he will behave decently with full maturity by keeping his dignity intact only in his new State which he makes in order to get true freedom. It is easy to understand his slapstick lifestyle and the farcical performances only if we understand his larger-than-life mission.
Imran Khan seems to pick and choose history, as he picks the flashy idea of being a legend but chose to ignore that legends are mostly mythical unless he thinks he possesses some supernatural powers, I am totally convinced of him being surreal but surreality cannot make one a legend rather forces him to see the reality with its true brutality.
A few more days will pass few more shame-less lies will fade away and leave space for newly baked lies and the performance will go on. I am sure that like every hero Imran Khan is also sacrificing but unlike a textbook hero his sacrifices are other way around. Usually, heroes sacrifice their, wealth, prestige, and loved ones to get their self-respect and dignity however Imran khan is sacrificing his morality to keep his stature but sacrifice is sacrifice, and his sacrifices too will eventually pay him no matter how surrealistic.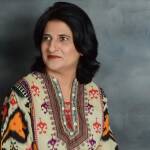 Note: Writer Shazia Anwer Cheema is a Prague-based author, columnist, and foreign affairs expert who writes for national and international media. She is a doctoral student and researcher in semiotics and philosophy of communication at Charles University in Prague. She can be reached at her: Twitter @ShaziaAnwerCh Email: shaziaanwer@yahoo.com
Disclaimer:
The views and opinions expressed in this article/Opinion/Comment are those of the author and do not necessarily reflect the official policy or position of the DND Thought Center and Dispatch News Desk (DND). Assumptions made within the analysis are not reflective of the position of the DND Thought Center and Dispatch News Desk News Agency.