Shazia Anwer Cheema
Pakistan Tehrik-e-Insaaf (PTI) has launched a massive campaign to create misunderstandings between the Pakistan Army and certain strata of society like seasoned politicians, academicians, and liberals by spreading messages on social media claiming that "this is a message from ISI".
In one of such messages and videos, the voiceover says:
"ISI has sent a message to tell you that there are three enemies of Pakistan that include liberals (civil society activists) who are enemies of our faith (Imaan), Kharji (extremists) who are enemies of our lives and Jhamooriay (democrats/politicians) are enemies of our wealth".
The video has used visuals mostly from ISPR video data claiming that this is a message from Inter Service Intelligence (ISI) to every Pakistani. In the video showing democrats (politicians), a montage has been given and interestingly one cannot find a photo of Imran Khan in the category of democrats/politicians.
At first appearance such messages look truly the work of someone related to the Pakistan Army as you find extremists as enemies of the Pakistan Army but dissection of the message sends some interesting but warning leads. Usually, such messages and videos start with the insignia of ISI and end with "Pakistan Foj Zindabad".
This is the time when democrats and liberals have categorically expressed their consent in rejecting Imran Khan. Because Imran Khan is dangerous for the state and state institutions, he following the anti-Pakistan agenda to dismantle Pakistan's strategic position in the global sphere is now going to the extreme length.
Promotion of material that claims that ISI considers democrats and liberals as its enemy is a very dangerous and professional move by anti-Pakistan elements such as PTI. The crux of this new wave of deep fake is to turn the Pakistani population against each other and consider the Pakistan Army the sole enemy of Pakistanis.
Till now PTI is surviving on cheap fakes such as fake videos, fake audio mixes, anonymous maligning social media statuses, tweets, and reels. But the new wave of deep fake is a direct attack on the sovereignty of Pakistan, cheap and shallow fake can affect a small number of emotionally vulnerable populations with no or low knowledge of how propaganda works but deep fake requires experts and mechanics and they are pretty expensive but available on the dark web for hire. PTI commissioning such work is a loud announcement of war against the sovereignty of Pakistan.
The said video while being traced to its creator leads its e-prints to a hardcore PTI V-logger residing in the USA. This is another alarming thing that Pakistan is being attacked by so-called Pakistanis from outside, they don't have the courage and guts to stand on the frontline.
Right now, civil society is unanimously interested in forgetting personal or ideological differences and in full capacity trying to save the country from a charged cult. That doesn't mean the fractions of society don't have differences anymore, it is a popular question, the PTI cult is asking on social media whenever they get free from abusing anything and everything contradictory to their illusive hopes; –are you a Patwaran now?; or now you too are on the same page? also; where has the strong, independent, liberal woman gone?, my answer to all is always, that I am not affiliated with any political party nor I am advocating anything, I am still a liberal independent woman having my ideological differences with other fractions of society intact but right now it is the duty for every Pakistani to put the ideological difference on the back burner and get united to save Pakistan from a funded, delusional, disoriented cult.
What this video is doing is demanding the clash of differences to be polarized to the extent that everyone ignores the fact that Pakistan needs us right now rest will be seen later. I hardly get bothered by PTI's cheap fake propaganda but watching this video gave me a shiver, to what length this greed of power can take Imran Khan.
Imran Khan would have thought that his delusional cult will create chaos and there will be civil unrest and state institutions will surrender, he himself has no vision and no political ideology, but to his utter surprise, not a single strata of society approved his idea of destruction for his power
Imran Khan is stating that his followers were not involved in looting and destruction, however, followers eagerly posted videos of their revolutionary acts on social media that are still available in abundance, when they are asked why they and their cult give up on the revolution?; they are unable to even define revolution, on social media they are responding to my question in ways beyond logic like a revolution was there but they are powerful, also revolution cannot be done with the mafia.
They are so ignorant that they don't have the idea that revolution is resistance for snatching rights and it could never be a voluntary act of transference, revolt could be done against, an idea, ideology, social norms, or a physical oppressor but in all forms revolutionaries have to snatch what they think is there. As the PTI cult was never revolutionary and also they are not following an ideology that's why they just acted as unhitched zombies and now hiding in their holes.
Imran Khan would have thought that his delusional cult will create chaos and there will be civil unrest and state institutions will surrender, he himself has no vision and no political ideology, but to his utter surprise, not a single strata of society approved his idea of destruction for his power, that's why he is trying to influence all those who still have wisdom and knowledge of history and politics. He is right in judging that his cult followers are not enough because they are unable to reason and they are incapable of logical conclusions, that could be the reason now he is involving liberals, conventional, and democrats in his fire of burning Pakistan to the ground.
I assure him that his less than three percent cult followers do not represent Pakistan, and we the 97%, liberals, conventional and democrats, or even technocrats have nothing in common with his cult follower, we have our differences and these differences will be there but at the moment we are all united against one thing and that is you — Frankston's Monster. You cannot fool us because we believe in logic and we do reason with decency and morality.
This new wave of deep fake needs to be identified and mitigated promptly. Don't even think about involving liberals, orthodox, and others in your dirty game, we are not thinking about our ideological differences now, we are only thinking about Pakistan because comes first.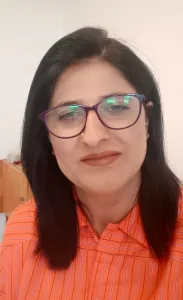 Note: Writer Shazia Anwer Cheema is an author, columnist, and foreign affairs expert who writes for national and international media. She is a doctoral student and researcher in semiotics and philosophy of communication at Charles University in Prague. She can be reached at her: Twitter @ShaziaAnwerCh Email: shaziaanwer@yahoo.com
Disclaimer:
The views and opinions expressed in this article/Opinion/Comment are those of the author and do not necessarily reflect the official policy or position of the DND Thought Center and Dispatch News Desk (DND). Assumptions made within the analysis are not reflective of the position of the DND Thought Center and Dispatch News Desk News Agency.