KARACHI, Pakistan: Prime Minister Imran Khan on Saturday announced a historic development package worth Rs 1,100 billion for Karachi to address its chronic problems.
The historical package has been announced under the Karachi Transformation Plan aimed at addressing the Provincial Capital's long-pending problems like choked drainage and sewerage system, encroachments, poor waste disposal, water supply, and transport.
Flanked by the Karachi Committee members including the Sindh Governor Imran Ismail and the Sindh Chief Minister Murad Ali Shah, the prime minister briefed the media persons in Karachi about the package, and said that both the federal and provincial governments will contribute to it.
Imran Khan said that under the package, the problems of Karachi relating to water will be permanently addressed in a matter of three years.
The prime minister said that it has been decided that the National Disaster Management Authority (NDMA) will clear the Nullahs in the Provincial Capital.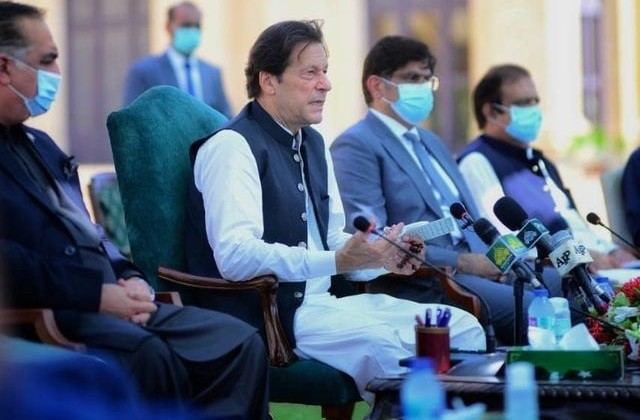 Imran Khan said that there are encroachments in Nullahs and the Sindh government has taken the responsibility to settle the families who will displace as a result of the clearance of the Nullahs.
Furthermore, he said that the package amount will also be used to address the sewerage, solid waste management and transport issues of the City.
The prime minister said that the Karachi Circular Railway project will be completed in addition to improving the road infrastructure from the amount allocated for the Karachi package.
Imran Khan further said that on the pattern of the National Command and Operation Center (NCOC), a Provincial Coordination Implementation Committee (PCIC), which will include all stakeholders, will be established to ensure the implementation of the decisions regarding Karachi.
Earlier, the prime minister presided over a Meeting of the Karachi Committee following his arrival in the Metropolis.
The Sindh Governor Imran Ismail, the Chief Minister Syed Murad Ali Shah, the Federal Minister for Planning, Development and Special Initiatives Asad Umar, the Federal Minister for Information and Broadcasting Senator Shibli Faraz, the Federal Minister for Maritime Affairs Syed Ali Haider Zaidi, the Federal Minister for IT and Telecommunication Syed Amin Ul Haque among others attended the meeting.