ISLAMABAD, Pakistan: President Mamnoon Hussain on Monday conferred Nishan-e-Imtiaz (military) upon Commander Royal Saudi Naval Forces Vice Admiral Fahd bin Fahd Al-Ghofaili.
The president decorated the Saudi Naval Commander with the award at a ceremony held at the Aiwan-e-Sadr in Islamabad.
The ceremony was also attended by the Chief of the Naval Staff Admiral Zafar Mahmood Abbasi, the Saudi ambassador to Pakistan Nawaf bin Said Al-Malki, and senior civil and naval officers.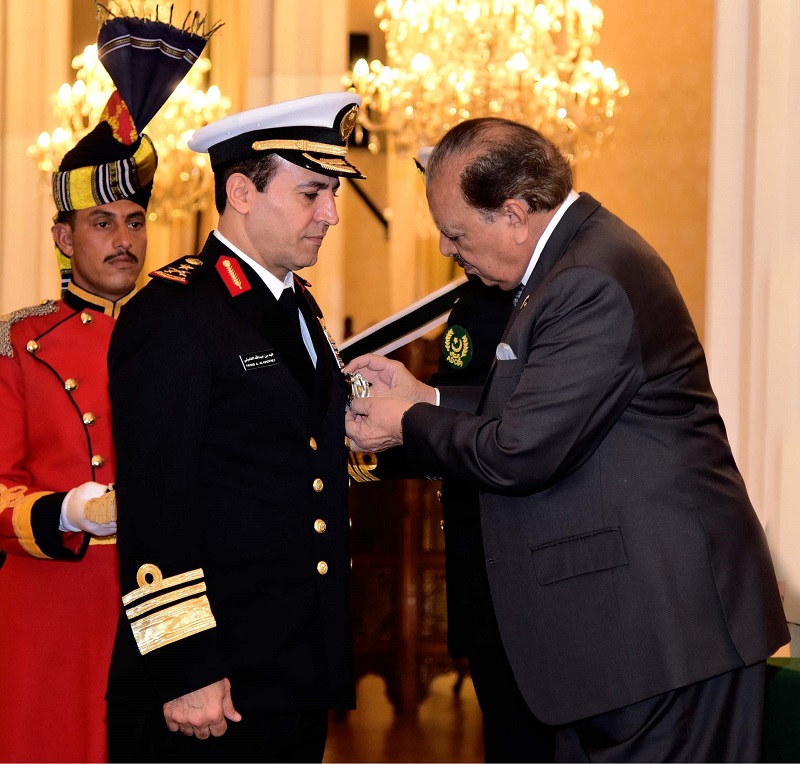 Later, the Commander Royal Saudi Naval Forces called on President Mamnoon Hussain and discussed matters of mutual interest.
The president emphasized that there existed close ties between the governments of Pakistan and Saudi Arabia and also between their people.
President Mamnoon underlined that the sincere friendship of Pakistan and Saudi Arabia would further grow in the coming days, and added that Pakistan Navy and Royal Saudi Naval Forces stood behind each other in the hour of need.
Mamnoon Hussain expressed satisfaction over the cooperation between the naval forces of both Countries and said it would yield far-reaching and beneficial impacts.
The president expressed his pleasure at the ongoing development process in Saudi Arabia under the leadership of King Salman bin Abdulaziz, which would be a source of welfare for masses.
The president said that the Holy Prophet (Peace be upon Him) has regarded all Muslims as brothers, whether they live in any part of the world. He stressed that key to the success of Muslim lied in following those teachings.