"Pakistan and Azerbaijan are primarily described by close friendship between our two countries and our two people. Based on that, there has been good cooperation, we have appreciated the support of the Azerbaijani government," said President of Islamic Republic of Pakistan Arif Alvi in his interview with AZERTAC.
Pakistan's President who took part in the 18th summit of the Non-Aligned Movement (NAM) in Baku shared his ideas over a number of issues between the two countries.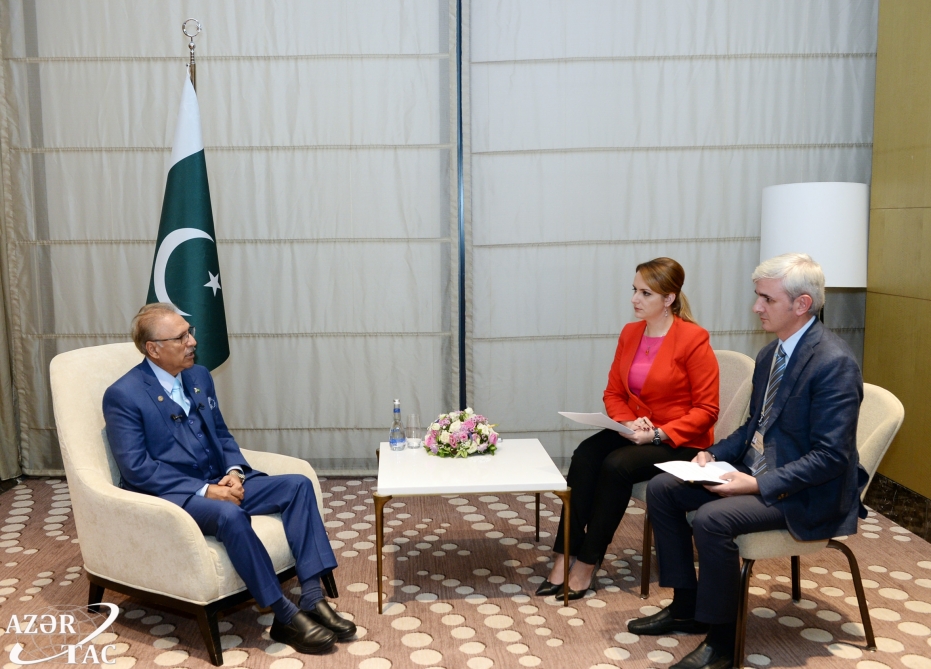 He stressed the meeting with Azerbaijani President was effective, adding cooperation in various fields were in the focus of discussions. Arif Alvi noted that Azerbaijan and Pakistan are proponents of peace and justice.
He further added: "Pakistan and Azerbaijan have always been supporting each other. We discussed the future of NAM together, and I think it is a great sense of respect and responsibility for Azerbaijan to be at the chairmanship of NAM. The ability to lay down the agenda of the world on issues of justice and fairness."
President Arif Alvi said that he thinks the Non-Aligned Movement has been weakened over the years. "I am a strong believer particularly when our friends from Azerbaijan are heading the NAM movement, I think this is a good time to inject life into a movement which was slowing down. The best way to inject life is to stand up for the weaker people, stand for the people whose rights have been denied. Stand up for people of anywhere of any religion is not a matter of any particular reason," he said.
Speaking of military cooperation between the two countries, President Alvi noted that Pakistan has delivered ten Super Mushshak trainer aircrafts to Azerbaijan Air Force. "Pakistan defense engineering and construction is a very important production set up, and we have state-of-the-art aircraft like the JF-17. We discussed that, and the fact that we can have good cooperation in training facilities between Azerbaijan and Pakistan in defense area. Pakistan has the best military itself in the world whereby we fought a war on terrorism. On terror no other country has had as much victory as Pakistan has had. We lost 70,000 lives."
The President also added that the two countries have always supported each other on Nagorno-Karabakh conflict and Kashmir issue. He said the aim of the countries is peace and tranquility, and the implementation of the UN resolutions.
Pakistan's President further talked about his discussions with President Ilham Aliyev. "We talked about other opportunities in which we can cooperate on economic side. We talked about the fact that Pakistan has a good hospital industry and very good doctors. So maybe that is an area of cooperation. That's what we can exchange. We can exchange the expertise of Azerbaijani people and Pakistani people and mix up and fulfil the gaps of each other's strength. So we talked about education in fact, there is a very good education system in Pakistani schools. We talked about Azerbaijan's skills in oil industry and the fact that Azerbaijan can think of establishing an oil refinery in Gwadar. We also talked about the North-South Corridor, the ability of goods to come from Gwadar right up into the North-South Corridor, into Central Asia. Pakistan is an agricultural country and let me tell you I must encourage people of Azerbaijan to try our mangos one of the best food in the world."
"I am so glad to see Azerbaijan's success in tourism," President Arif Alvi concluded.