ISLAMABAD, Pakistan: The Centre for Social Justice (CSJ) organized a seminar on "political parties' priorities and minorities' rights" wherein speakers emphasized that political parties need to focus on making serious efforts to improve their performance, and deliver on promises to address outstanding human rights issues.
The Executive Director of CSJ Peter Jacob, Senator Afrasiab Khattak, MNA Naveed Aamir Jeeva Zafarullah Khan, Dr. A. H. Nayyar, and Dr. Huma Chugtai were among the speakers while Suneel Malik moderated the seminar.
At this juncture, the Centre for Social Justice's report titled "Promises to Keep & Miles to Go" based on the analysis of pledges, actions, and performance regarding minorities rights made by political parties was launched which the political parties in the government and opposition largely failed to implement their pledges fully in the last three parliamentary tenures.
The study found that Pakistan Tehreek-e-Insaf (PTI) fulfilled none out of five promises made in election manifesto 2018, though it made partial progress on two promises. Pakistan Muslim League-Nawaz (PML-N) failed to materialize nine out of ten promises. Pakistan People's Party (PPP) partially implemented one out of eight promises.
The study showed that one-third of the pledges in parties manifestos throughout three election years i.e. 2008, 2013, 2018 were common including; minority representation in ETPB, establishing a statutory minority commission, criminalizing forced conversions, reviewing curriculum, implementing job quotas and reviewing discriminatory laws. However, the pledges remain unfulfilled.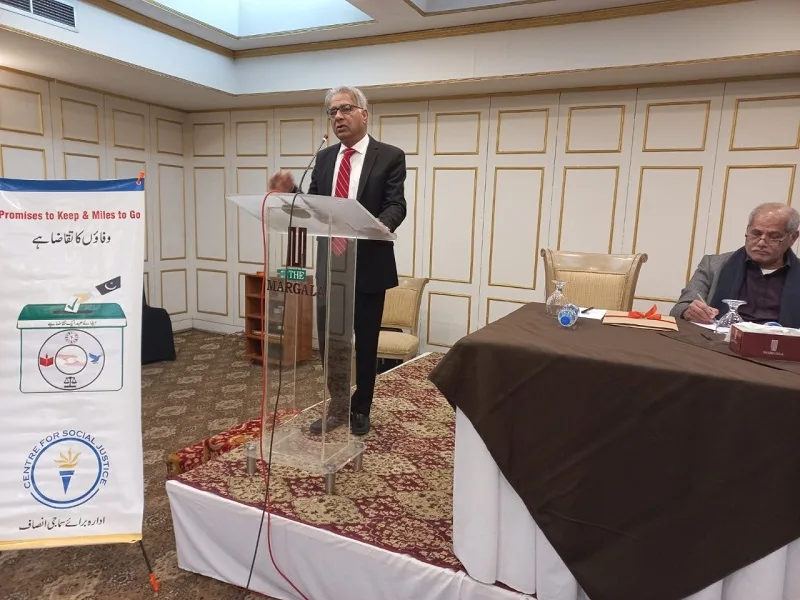 Peter Jacob said that the manifesto analysis impresses upon the seriousness that is required on part of all stakeholders, parliamentarians, political parties, and the electorate in general, and ultimately the political system which needs fundamental reforms to deliver on pledges made by political parties with the electorate, and the promises made in the constitution of Pakistan with citizens regarding fulfilling human rights.
Therefore, CSJ is cognizant of the fact that the opportunity of upcoming elections 2023 should not be lost, and the political parties should make meaningful and realistic pledges with a certain roadmap to deliver on the promises, which will improve the quality of politics and the political process in Pakistan.
Afrasiab Khattak said that the lack of political parties' commitment to fulfilling their promises made in the election manifestos has caused disappointment among citizens. Pakistan was created on the ideals of federation and democracy, it is sad that the state has adopted extremism as an ideal, and the political parties build narratives based on criticizing the actions of political opponents and misuse religion in political matters, which badly affects peaceful coexistence, and nation building. The objective resolution needs to be excluded from the preamble of the constitution of Pakistan, and the provisions of the constitution guaranteed equality of citizenship should be respected and implemented, he demanded.
The Parliamentary Secretary for the Ministry of Poverty Alleviation and Social Safety Naveed Aamir Jeeva said that PPP has introduced national minorities day, and seats for minorities in the Senate, and is committed to taking legal, policy and administrative measures to effectively address the barriers and challenges faced by minorities, and introduce and support meaningful actions dedicated to the protection of minorities rights.
Zafarullah Khan said that the pledges made by political parties regarding minorities' rights rely on the charity model, and there is a need to introduce concrete promises based on the notion of equality of citizenship, and they must be implemented. He demanded that smaller minorities must be counted separately in the digital population census 2023, and minority candidates should be given tickets to contest elections on general seats in those constituencies, where a certain political parties have a strong vote bank.
Dr. A. H. Nayyar said that the political parties should not surrender their decision-making powers and will to any influential actors, instead, they must muster the courage to adopt progressive policy reforms to address human rights abuses and violations, particularly on the basis of religion.
Dr. Huma Chugtai said that rights of equal citizenship is guaranteed in the constitution of Pakistan irrespective of any discrimination. The onus is on the political parties to address human rights abuses and violations, particularly discrimination, intolerance, and extremism on the basis of religion but they failed to introduce progressive reforms dedicated to religious freedom and minorities rights.
The CSJ's report titled "Promises to Keep & Miles to Go" which revealed that the Punjab government during 2008 and 2022 introduced 11 policy actions followed by the federal government with 9 actions, Balochistan with 8, Khyber Pakhtunkhwa with 7, and Sindh with 6 actions. The majority of policy actions lacked a strong legal basis and implementation mechanism which indicates a need for a serious re-examination of our administrative system. The policy actions rely heavily on issuing notifications, which is a convenient use of administrative powers while the government evidently faced difficulties in legislating and instituting rules of procedures in various measures. The concrete information on the utilization of funds allocated for scholarship, places of worship, skill development etc. was not made public or there was a lack of implementation due to an absence of notifications or the purpose of the policy action was not fulfilled.
The study revealed that the political parties appear to be reluctant to take measures to address outstanding issues faced by minorities, to counter the anti-minorities propaganda, as transpired in the case of draft bills on criminalizing forced conversions which were ignored by national, and Sindh assemblies due to pressure exerted by religious forces. However, they made partial progress on the inclusion of religious studies as an alternative to Islamiat, textbooks are yet to be developed.
The study found that the political parties are increasingly using the language that manifests their aspiration about the empowerment of minorities but while in power, the parties heavily rely on non-legislative means or weak measures, such as; issuing executive notifications instead of passing legislation to introduce affirmative measures, which ultimately weakened the measures themselves. For instance, a law is yet to be enacted to establish a statutory National Commission for Minorities despite it was promised by PTI and PPP. Likewise, a law is yet to be enacted to effectively implement job quotas for minorities in government departments and institutions despite it was pledged by PML-N, PPP and PTI in their election manifestos.