ABBATOBAD, Pakistan: Prime Minister Shahid Khaqan Abbasi on Wednesday inaugurated 47-kilometer long Burhan-Shah Maqsood Interchange of Hazara Motorway, an important part of multi-billion dollar China Pakistan Economic Corridor (CPEC).
The Chinese Ambassador to Pakistan Yao Jing and the Deputy Speaker National Assembly Murtaza Javed Abbasi also accompanied the prime minister at the inauguration.
Burhan-Shah Maqsood Interchange is the phase one of Hazara Motorway which aims at to provide modern commuting facility to around six million people of Hazara Division and the Northern Areas.
The six-lane Hazara Motorway is being constructed in three packages, and 28,500 vehicles will play on it once it becomes operational.
The construction of Hazara Motorway; consisting of 30 bridges and flyovers, as well as 31 underpasses; has been completed in less than three years. 
Talking to media, an official of National Highway Authority (NHA) said that Hazara Motorway is the second motorway project in Country's northwestern Khyber Pakhtunkhwa province after Peshawar-Islamabad Motorway (M-1).
The NHA official said that Hazara Motorway is being further expanded till Mansehra through Abbottabad, adding that the construction work on remaining 12-kilometer section is going on smoothly, and it will be opened for traffic by February 2018.
The official said that a section up to Mansehra of Havelian-Thakot Motorway will also be opened for traffic by May next year.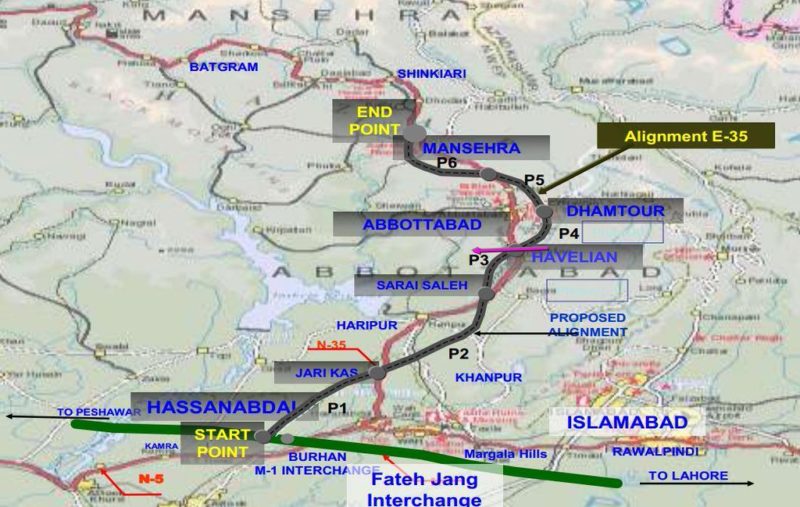 Meanwhile, workers of Pakistan Muslim League-Nawaz (PML-N) Khyber Pakhtunkhwa Chapter said that Hazara Motorway is a gift of the federal government for the people of Hazara but what about the promises of Pakistan Tehreek-e-Insaf (PTI)-led provincial government those are still waiting for even to start.