KARACHI, Pakistan: Prime Minister Shahid Khaqan Abbasi on Saturday said the federal government was concerned over the recent surge in street crimes in Karachi which could compromise the gains made through sustained efforts during last four years. 
While presiding over a meeting on law and order situation at the Governor House in Karachi, the prime minister stressed the need for activating all intelligence resources to arrest that alarming trend.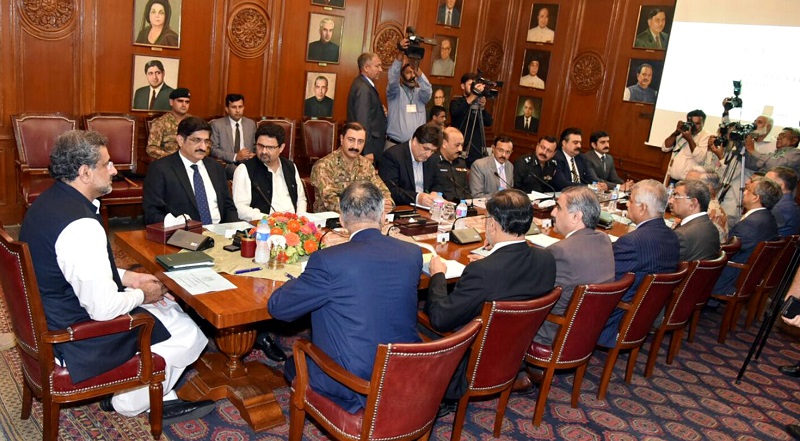 The meeting was briefed on overall security situation in the Sindh province in general and Karachi in particular.
The meeting reaffirmed that peace and tranquility in Karachi would be maintained at all costs.
The Sindh Governor Muhammad Zubair, the Sindh Chief Minister Syed Murad Ali Shah, the Federal Minister for Interior Ahsan Iqbal, the Corps Commander Karachi Lieutenant General Shahid Baig Mirza, the Chief Secretary Sindh Rizwan Memon, Director General (DG) Rangers Sindh Major General Muhammad Saeed, Inspector General of Police (IGP) Sindh A.D. Khawaja and other senior government officials were present during the meeting.
Earlier, the prime minister also met the Sindh governor in Karachi, and assured that the federal government would extend its all-out support for development in Sindh province.
Separately, the prime minister also paid a visit to the mausoleum of Quaid-a-Azam Muhammad Ali Jinnah.
Shahid Khaqan Abbasi also held a meeting with a representative delegation of Federation of Pakistan Chamber of Commerce and Industry (FPCCI) and Pakistan Business Council in Karachi.
Likewise, a delegation of Muttahida Qaumi Movement (MQM) Pakistan led by Farooq Sattar also met the prime minister and discussed the current situation in Karachi.
It was maiden visit of Shahid Khaqan Abbasi to Karachi since he assumed the Office of Prime Minister on August 4, 2017.