By Basit Raza Abbasi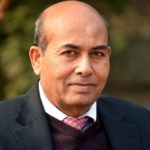 The visit of Pakistani Prime Minister Imran Khan to the United States is a harbinger of a fresh wave in Pak-US engagements.
After a bumpy ride on an uncertain path fraught with all possible threats, some of them existential, it is indeed a miracle that this perilous ride is still on track, albeit at a dead stop.
I think history and leaders have a symbiotic relationship: sometimes augmenting, and sometimes annulling each other.
This visit has three dimensions those are: Personal, Bilateral and Regional.
Both PM Imran Khan and President Trump are new on the world stage. They are not from the traditional league of politicians; they came in limelight by their successes in other fields and are seen as objectors against the system in vogue. One has launched a crusade against corruption of his predecessors, while the other is bent upon repealing all the crowning achievements of his predecessors, be it Obamacare, JCPOA or with-drawl of forces from an 18 years old war which he considers senseless, ab initio.
They are both engaged in a mortal combat with their opponents, hoping to emerge as victors. Both want to be seen as trail-blazers and men of peace; one has opened a corridor to facilitate pilgrims of his archenemy, and graciously released captured enemy pilot during peak of hostilities; the other has made history by stepping onto the soil of an archenemy to shake hands with him, and is now bent upon pulling out of an 18 years old war. Both are straight batters. They don't bear the diplomatic baggage of continuity. It is this newness in their approach which can breathe some fresh air in Pak-US choking relationship.
On the bilateral front, there is a long list of claims and counterclaims, of dashed hopes and unmet obligations falling just short of breach of trust. But those are legacy issues.
These are new guys (PM Imran and President Trump) who don't feel the burden of past events. Their predecessors have committed many follies but they are here to correct these and make new beginnings. They have selected an opportune moment for this meeting.
A climate of trust and usefulness has been created by timely support provided by each party on critical issues to the other. They can begin their first meeting with a warm handshake. Respecting and supporting each other's vital interests as far as possible is an expected outcome. This would range from better understanding each other's point of view on critical regional issues: Afghan imbroglio, China Pakistan Economic Corridor (CPEC) and Indo-Pacific region, Strait of Hormuz, Kashmir, India; as well as military to military contact, trade and technology, business, economics, and Aafia Siddiqi. Pakistan would want to change this transactional, quid pro quo relationship to a more principled and enduring one based on principles, respect and trust. Foreign Minister Shah Mahmood Qureshi has already declared that they are not there for money. PM Khan will be more assertive. It is no surprise that Morgan Ortagus has redirected all questions about PM's official visit to White House.
This broad understanding on regional issues is likely to lead to fine-tuning of each other's position and role and task on many of the regional issues.
Most certainly, Afghan Peace Process will get a boost leading to an Agreement by the end of this year and withdrawal of foreign troops from Afghanistan by the next. Bilateral talks between Pakistan and India will resume at a senior level. Pakistan's decisive actions against terrorist activities by non-state actors will be endorsed by the regional and world powers. Indian brutalities in Kashmir will receive greater attention from international bodies with a demand for respecting the human rights as per the UN Charter and Resolutions. On the bilateral side trade and economic activity as well as military contacts could be revived and upgraded.
Imran's swinging yorkers and head-butting bouncers, his fluent cover-drives and bowlers back drives (techniques for Cricket bowing) are imprinted on national psyche; it expects miracles from him. But I am sure of one thing: he will go with his head high and return with his head high. The more tangible outcomes would be visible shortly. This will be a good beginning———
About Writer:
Writer Basit Raza Abbasi is a retired PAF Officer with a keen eye on geopolitical and strategic developments. He is a senior analyst for TV programs on international relations and current affairs. His deep understanding of regional developments especially political changes and international realignments make his analysis of the emerging situation very meaningful. He then applies his experiences to the new situations to chart a course of action for Pakistan which is pragmatic and offers an out of box solution to the most difficult and unpredictable situations. Other fields of interest are CPEC, Energy and Oil and Gas sector.
Disclaimer:
The views and opinions expressed in this article/Opinion/Comment are those of the author and do not necessarily reflect the official policy or position of the Dispatch News Desk (DND). Assumptions made within the analysis are not reflective of the position of Dispatch News Desk.