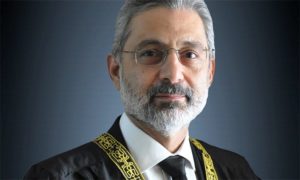 ISLAMABAD, Pakistan: The President of the Federal Union of Journalists (PFUJ) Afzal Butt and the Secretary General Ayub Jan Sarhandi have expressed their deepest concern on sending references against judges including Qazi Faez Isa, one of the most respected judges of the Supreme Court and termed it pressurizing the judiciary for unknown gains of the present government.
In a joint statement on Friday, they condemned the media trial of the Apex Court Judge Justice Qazi Faez Isa much before the disclosure and surfacing of notices to government by the Supreme Judicial council, and said that the PFUJ and entire media and the Journalist Community stands with independent judiciary and judge Qazi Faez Isa.
They emphasized that the independent judiciary is the only institution, which guaranties free media, freedom of speech and expression and human rights as per Constitution of Pakistan, which are essential for any democratic society and a Country, and it also strengthens democratic institutions and norms in any Country around the globe.
The president and the secretary general of PFUJ said that independent judiciary and judges like Qazi Faez Isa are the need of the times for dispensation of justice based on law and the Constitution, which will certainly lead towards healthy society, good governance and transparency.