By Shazia Anwer Cheema
Prague, Czech Republic: "The Prime Minister Imran Khan has directed all missions abroad to provide maximum facilitation to overseas Pakistanis."
This was said by Ambassador of Pakistan to the Czech Republic in Prague Muhammad Khalid Jamali while addressing a group of Pakistani students who were invited by the Ambassador at the Embassy of Pakistan in Prague. He was of the view that students studying abroad are the future of Pakistan and they must give their maximum time to their studies and secure their degrees with honour.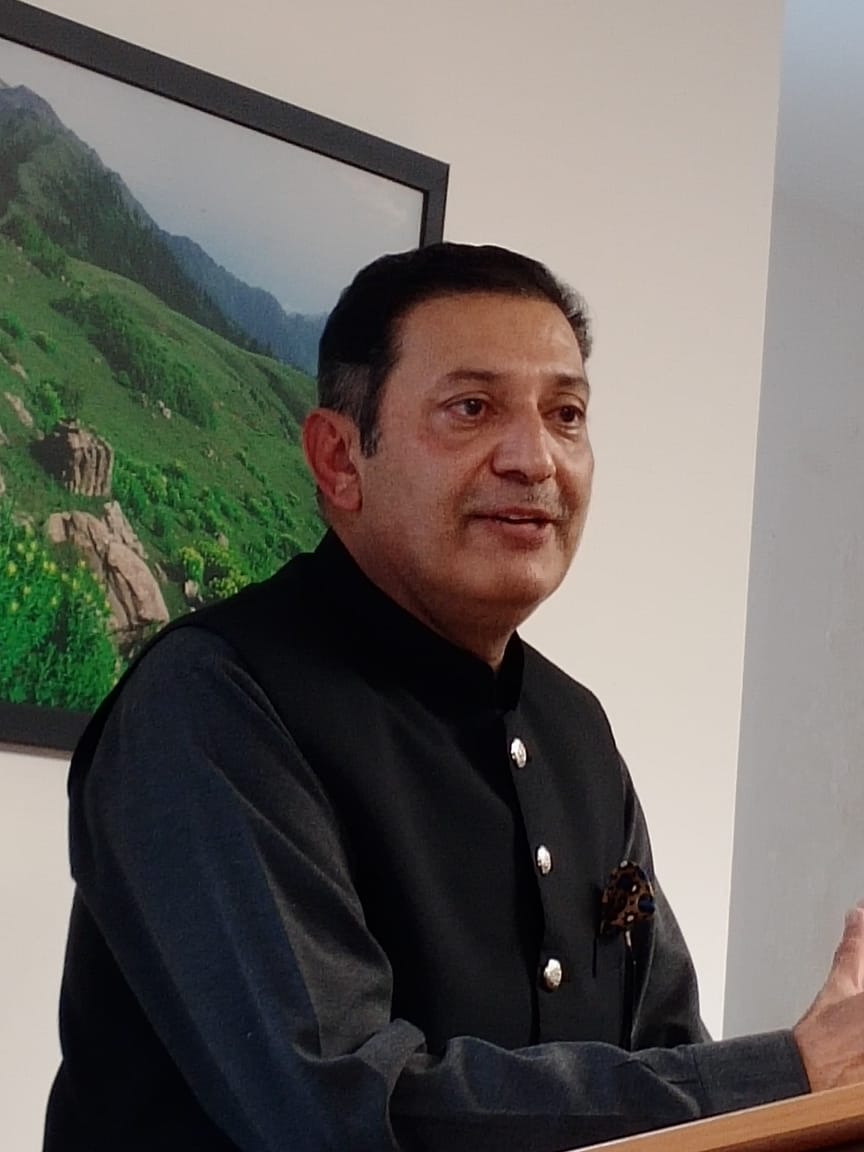 Ambassador Khalid Jamali was of the view students should consider Pakistani Embassy as their second home and his office is available whenever any support is needed. "You are an important component of the embassy and you can play a pivotal role in enhancing the soft image of Pakistan in the Czech Republic," emphasized Ambassador Jamali.
He was of the opinion every Pakistani living in the Czech Republic is a symbol of Pakistan, therefore, his/her conduct would represent Pakistan as a moderate, friendly, and peaceful country to the people of the host country.
Ambassador Jamali while briefing students about the Kashmir issue stated that Kashmiris are facing a purge-like situation in Indian Occupied Jammu and Kashmir where medical services during COVID-19 had been denied and this is the duty of every Pakistani to raise voice for Kashmiri brothers. He stated that the Palestine issue is also important for Pakistan and Prime Minister Imran Khan through successful diplomacy is raising his voice for Muslims at every international forum.
He maintained that Islamophobia is a great danger for Muslims and PM Khan has taken a bold position to raise this issue everywhere he has an opportunity. He was of the view that OIC Prague Group is working proactively to protect the identity of all Muslims living in the Czech Republic and Pakistan Embassy is actively working with OIC countries for establishing a Muslim cemetery (Graveyard) in Prague for the burial of Muslims.
He was of the view that Pakistani students living in the Czech Republic should promote a soft image of Pakistan through their friendly and helpful conduct towards Czech society and should respect social norms and laws and should become a useful component of Czech society during their stay in the Czech Republic. He informed students that Pakistan and the Czech Republic enjoy excellent bilateral relations and both the countries are working to enhance bilateral trade and people-to-people contact.  "I have high hopes with you (students) because you are the bright future of Pakistan," concluded Ambassador Khalid Jamali in his speech to students.
In the Question and Answer Session, Ambassador Jamali while answering questions stated that Pakistani students coming to study in the Czech Republic face some educational documentation problems (Super legalization of documents by Czech Embassy Islamabad) and Pakistan Embassy is well aware of the situation and is trying to rectify this issue with active and positive help of host country.
While talking with DND News Agency, Pakistani students appreciated the proactive role of the Pakistan Embassy to solve any problem being faced by them and were of the view that Ambassador Jamali was always available to students whenever they need help.