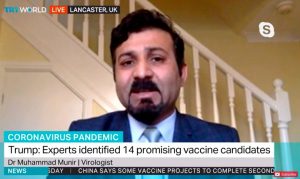 The World Health Organization (WHO) has listed Pakistani Scientist Dr. Muhammad Munir, a Virologist at Lancaster University in the UK, as the Potential Vaccine Maker for the Novel Coronavirus (COVID–19).
The vaccine classified as "Avian Paramyxovirus Vector (APMV)" has been developed by Lancaster University's Dr. Muhammad Munir, and is among 110 Candidate Vaccines in Preclinical Evaluation.
The Candidate Vaccines including the "Avian Paramyxovirus Vector (APMV)" have been listed in the landscape documents prepared by the WHO for information purposes only concerning 2019-2020 global of the Novel Coronavirus.
The Clinical Trials of the Lancaster University vaccine will begin soon.
The Lancaster University vaccine is now on the World Health Organization landscape. Long way to go but will keep pushing….@LancasterPress @BLSLancasterUni @LancasterUni https://t.co/wxka5ztbGv

— Muhammad Munir (@ViralZoonosis) May 15, 2020
On his Facebook Page, Dr. Muhammad Munir wrote on May 16 ""For last one month, trying to convey the message to Govt of Pakistan, through all possible channels, without any serious response. I have no doubt that mashallah there are competent researchers and authorities in Pakland, and inshallah they will take care of the crises.
Dr. Munir further wrote on his Twitter account that someone would contact him for the betterment of motherland."