Monitoring Desk: A delegation of Pakistani-Americans, including a former government minister, visited Israel, reports Israeli newspaper Haaretz (haaretz.com).
Last May a Pakistani journalist and member of a sensitive Think Tank Ahmad Qurashi visited Jerusalem and met with Israeli President Isaac Herzog.
Read the coverage from @i24NEWS_EN about our Pakistani delegation that is currently in Israel. https://t.co/MzjAJRyJhU

— Sharaka – شراكة (@sharakango) September 20, 2022

This year, the delegation had Dr. Nassim Ashraf, the ex-head of the Pakistan Cricket Board and a former Pakistani Minister of State for Human Development during Gen Musharraf era who also conferred Sitara-i-Imtiaz (Star of Excellence) in 2007 to Dr. Nassim Ashraf.
The delegation consists of members of the American Muslim and Multifaith Women's Empowerment Council (AMMWEC) and Sharaka, an NGO founded in the wake of the Abraham Accords to embed people-to-people normalization between Israel and Muslim-majority states.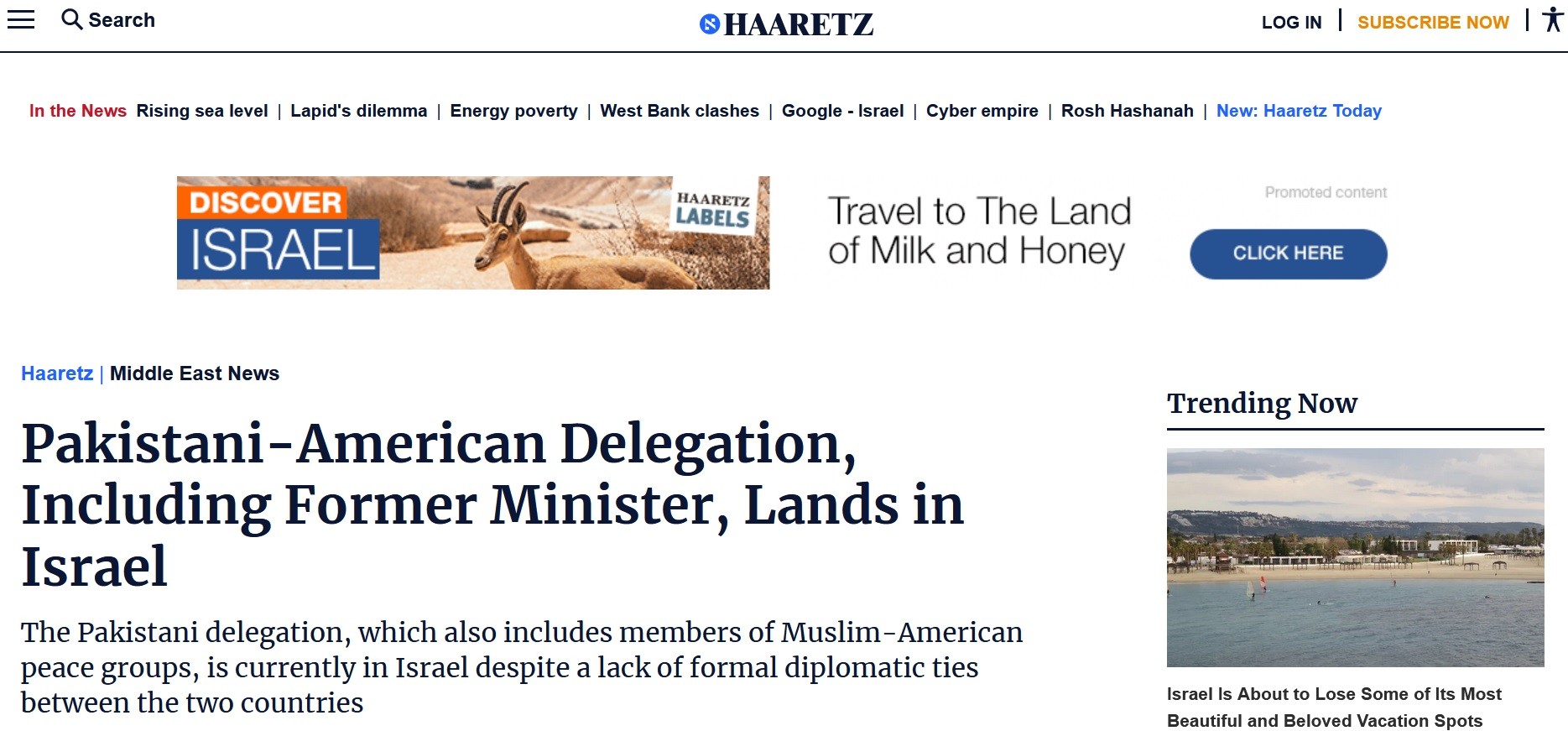 Middle East Eye reports that the Pakistani "peace" delegation is visiting Israel and is scheduled to meet President Isaac Herzog and senior religious and foreign policy figures, as well as visit the Holocaust Museum.
The Pakistani delegation comprises nine members. Four of them are currently living in Pakistan, the rest are from the Pakistani diaspora in the US. It includes a journalist from a Karachi news station, and a British-Pakistani imam, i24NEWS reported
Pakistan and Israel do not maintain diplomatic ties. However, the two countries recently joined a US-led naval exercise in the Red Sea, alongside Saudi Arabia, Oman, Comoros, Djibouti, Somalia and Yemen.
Israel and Pakistan have made overtures to each other in the past, most notably when the country's foreign ministers met in Istanbul in 2005 following Israel's withdrawal from the Gaza Strip.