The Pakistani showbiz industry is growing day by day. More and more people are entering the industry which increases the chance of seeing more Pakistani celebrities who are relatives. There are many actors who we know as relatives. However, there are some with whom we would have never thought about having close relationships. Many of them are because of co-incidence but others are because they want to assist their relatives in the industry.
Pakistani Celebrities Who Are Relatives
Take a look at the list below to see who belongs to whom in what way. So, get ready to see all the Pakistani celebrities who are relatives.
Haroon Shahid And Ahad Raza Mir
Ahad Raza Mir is a successful Pakistani actor who has gotten more fame for his Netflix project, Resident Evil. He has also done many big projects in the country like Ehd-e-Wafa, Parwaz Hai Junoon, Ye Mera Dil, and many more. Haroon Shahid is also becoming popular for his performances and looks. Least many of us knew that they are first cousins until we saw pictures of them from a wedding ceremony.
They don't actually meet frequently but the pictures show how well they get along with each other.
Juggun Kazim And Aly Khan
Juggun Kazim has remained a big name on the show host list in Pakistan. She has also been a talented and beautiful actress. She usually posts about supporting Aly Khan which leaves fans questioning their relationship. Aly Khan is a well-known Pakistani actor who has not just worked in the country, but in Bollywood and Holywood as well.
She calls him brother. It is obvious that they do not have a blood relationship. So, she clarified that he is her first cousin's brother. To keep it simple, Aly Khan is Juggun Kazim's brother-in-law who is more than a brother to her.
Agha Ali And Ali Azmat
Keep reading the article till the end to see how many celebrities are linked to Ali Azmat. Ali Azmat is a rockstar of our country who gives power-packed and enthusiastic music to the audience. Agha Ali is also a good-looking singer and actor in Pakistan. To our surprise, both of them are cousins.
Yasir Akhtar And Mehreen Jabbar
Yasir Akhtar is a talented singer and actor from the 90s. He gifted some hit songs to the music industry. He is a cousin of Mehreen Jabbar, a renowned director in Pakistan. They had been really close in childhood as first cousins. They have some great memories together.
Ushna Shah And Faiza Gillani
Both of them are actresses in Pakistani dramas. Ushna Shah gained her fame from Bashar Momin and since then she is not looking back. Faiza Gillani is also a frequently appearing face on the drama screen because of her versatility. She can do all kinds of roles. Ushna considers her more than a  cousin. So, she keeps on supporting her by asking her fans to follow her.
Sana Fakhar And Noor Bukhari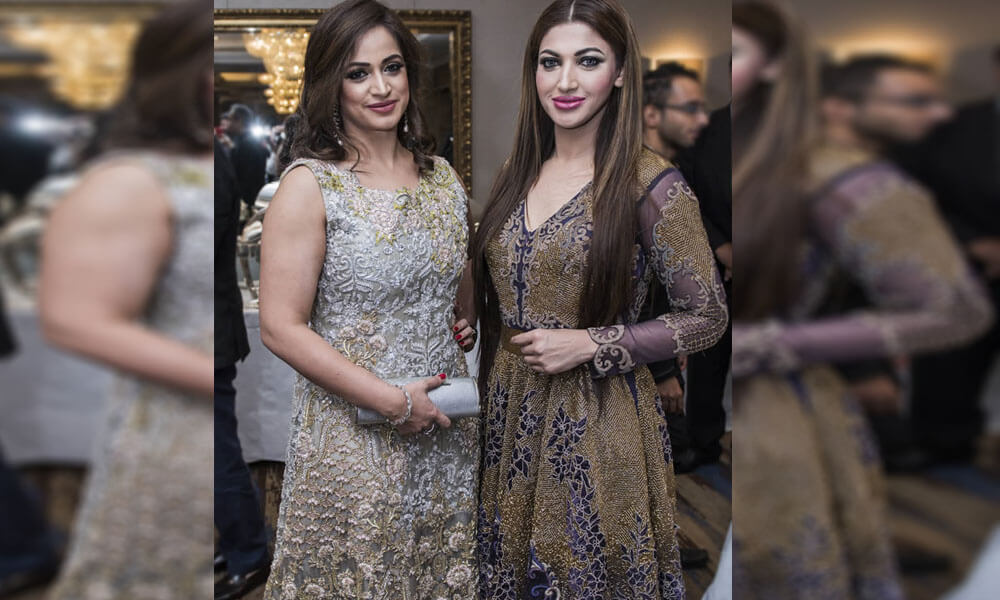 Sana Fakhar was just a movie actress but now she is a fitness model. She is now a Pakistani brand ambassador for Harley Davidson because of her fitness. Noor Bukhari also needs no explanation for her name. She has given masterpieces of performances in movies and dramas. These are among some of the Pakistani celebrities who are relatives. They are first cousins.
Although, they are cousins they have some inside clashes that we do not know about. The two keep on saying mean impolite things about each other.
Sunita Marshal And Benita David
Sunita Marshal ranks among the top models of Pakistan. She belongs to the Christian community but represents our national culture very well. She has also shown her skills in acting and proved successful. Benita David is her cousin who does not appear in the major roles but her appearance might have gone through most people's attention. She usually appears in supporting roles and in morning shows.
Soniya Jahan And Ahmad Ali Butt
We all know that Ahmad Ali Butt is Madam Noor Jahan's grandson. But, little did many know that Soniya Jahan, too, has the same relationship with her. Due to their relationship with Madam Noor Jahan, they are cousins and related to each other.
Tina Sani And Nadia Hussain
Tina Sani is a classical singer of Urdu ghazals which makes the artistic audience love her. Her niece works in the entertainment industry as an actor, model, and makeup influencer. Nadia Hussain is Tina Sani's niece and they revealed this secret on a morning show.
Asad Siddique And Adnan Siddique
This is a duo of Pakistani celebrities who are relatives that we all know. The good looks run in their genes maybe because both of them are extremely attractive and brilliant actors. they both have a very strong bond as uncle and nephew. they appear a lot together on social media. Therefore, a lot of their fans know about them.
Zara Noor Abbas, Bushra Ansari and Asma Abbas
These three have a very close bond with each other. They seem to be having a family full of talented actors, singers and dancers. Talent runs in their blood. Bushra Ansari and Asma Abbas are sisters. Zara Noor is Asma's daughter and Bushra's niece. They have done quite a lot of work together and impressed the audience with their chemistry.
Sultana Siddique And Shehryar Munawwar
Shehryar Munawwar has struggled in the industry to make his worth. He is undoubtedly talented because of which he gained drama offers, TV commercials and even film projects. A lot of people might not know that Sultana Siddique, the founder of HUM Tv is his aunt (phupo). People who know thought that his success is backed up by Sultana Siddique.
However, in an interview, he clarified that he is a self-made actor and Sultana Aapa supported him in no way.
Sadaf Kanwal And Nida Mumtaz
Nida Mumtaz has been appearing as a mother figure in the dramas. She took a break from showbiz to manage her family and kids. But, now she is back. Sadaf Kanwal is a model and actor. But, she got hype because of her marriage with Shahroze Sabzwari. It took her into hot waters and made everyone gossip about her.
It was at that moment when people used to gossip about her in front of Nida Mumtaz that she spoke up. She revealed that she is phupo of Sadaf so they would stop talking about her in front of her.
Ali Abbas And Rimsha Khan
Ali Abbas and Rimsha Khan are new and talented addition to the industry. They played the role of a couple in Ghisi Pitti Mohabbat. Later, Rimsha revealed that Ali is Khala's son. They are like siblings in real life which made it difficult for them to act in the drama.
Ayesha Omar and Sammiya Mumtaz
They are examples of how genes work. They share common genes dominated by beauty and limitless talent. Fitness is in their blood because no matter the age, they look smart and beautiful forever. They are second cousins and the only person Ayesha knew in showbiz was Sammiya Mumtaz.
Sanam Jung And Faysal Qureshi
This is a pair of Pakistani celebrities who are relatives but a few people know about them. They are not as close as others. They belong to each other through extended family. Their link is quite long and confusing. Therefore, it is better to stick to their being distant relatives rather than digging into their family trees,
Junaid Jamshed And Nemrah Ahmad
Nemrah Ahmad is a talented novelist from Pakistan. If someone is to recall the novelists in Pakistan, Nemrah Ahmad is among the few that people know about. Junaid Jamshed is a relatively new arrival in the town but has gained popularity. Although, he has played a minor role the looks are giving him praises. Recently, Nemrah Ahmad made a supporting post for Junaid Jamshed.
In the post, she revealed about her distant relationship with Junaid and his wife. She also kept on praising him for how good he is.
Ali Abbas, Ali Azmat, And Mustafa Zahid
All three of them are singers and best in their own domains. Although we hardly see them together they are cousins. Ali Abbas is proving whose son he is through his performances because his father is an iconic actor in our industry.
Junaid Jamshed And Aly Khan
Junaid Jamshed (Late) the legendary singer and a religious figure is the first cousin to Aly Khan. The relationship was revealed during a Ramazan transmission when he called his nephews to pay a special tribute to deceased Junaid Jamshed.
Komal Aziz And Khalid Hafeez
Komal Aziz revealed in a recent interview that the veteran actor, Khalid Hafeez is her father's cousin. Khalid Hafeez is a living legend of his time who is among the first actors to work on the TV screen. Komal Aziz, like his uncle, is also making her worth gradually.
These were all the Pakistani celebrities who are relatives and we did not know about many of them.