Abusing Female Pakistani Actresses On Instagram Becomes A Trend
I remember when I first signed up for a public Instagram account and talked about personal mental health struggles and incidents like my mother's death, some people reached out and said that I was milking on a tragic incident in my life to get fame. With that being said, I can only imagine what Pakistani actresses go through every day because of the hatred they get for their lifestyle and personal preference. While I don't say that whatever they say or do doesn't have an impact on people, but I do know that accountability and bullying are two separate things.
I was recently going through Instagram when I realized that our feeds are filled with people abusing Pakistani actresses and it is becoming more of a trend with every passing day. Let me report the latest incidents here:
Sarah Khan On Her Father's Death
Sarah Khan, unfortunately, lost her only parent – her father – a while back. The news spread like wildfire obviously where people offered her condolences, and she shared some very emotional posts and stories on her Instagram too. But, once she tried to get back to her work, people started slamming her by quoting that how can she focus on acting and promoting her dramas when her father has passed away.
Just like anyone else who would get back to work sometime after losing her parent that is what she did. The criticism and rebuke were told uncalled for especially at the time when the actress was already grieving.
Ayesha Omer For Wearing Bikini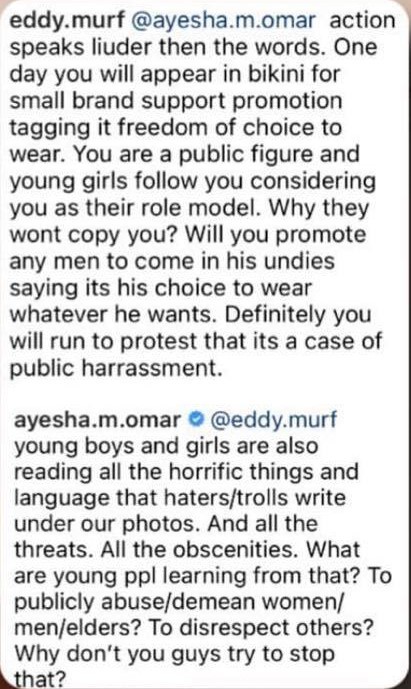 Ayesha, in a comment on her latest post, was also one of the Pakistani actresses who was abused for her choice of clothes. A fan went on to write a long rant on how what she is wearing is destroying the generation. She retaliated and wrote back that the same young generation is also getting affected by the obscene comments that the fans drop on celebrities' accounts and how they think it is okay to abuse females.
This wasn't the first time that Ayesha Omer received hated and it was definitely not the first time when she showed troll the door he has to walk out from.
Nadia Khan On Marrying Again
Nadia Khan recently got married again in an intimate ceremony with only family members including her beautiful children. People took it upon themselves to start bashing her and her unwomanly ways of marrying again and again. People went to claim that this is the third or fourth time she is marrying.
Khan in her comments and various other places clarified that it was her second marriage and she had only adopted a child previously who is now her son. This goes on to prove that how Pakistani actresses have to prove themselves every step of the way.
Mehwish Hayat On Being Happy & Unmarried
As ridiculous as the title is, completely ridiculous is what Hayat had to face recently. She recently hit her glorious mid-thirties and people found it the best pastime to comment on her being unmarried and happy. The actress, in one of her interviews, told that sometimes a woman can hit their thirties and be happy without being married as well. Such women should not be judged.
Contrary to what the actress said, people took it upon themselves to judge the hell out of her. People started bashing her for being 'old', unmarried, and promoting the same.
See, what I meant? I have just pointed recent four incidents out of dozens that happen with only one female actress every day. Why do we feel so entitled to bash Pakistani actresses while no such thing has happened with a male celebrity ever? And it should not happen to them either. Neither to males nor not to females. Let's start practicing ethics and knowing what our rightful place is and should be. Pakistani actresses are humans and they deserve respect and fair treatment.