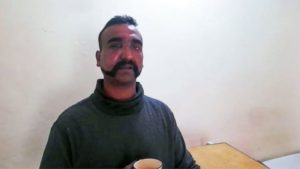 ISLAMABAD, Pakistan: Pakistan will release the Captured Indian Air Force (IAF) Wing Commander Abhinandan tomorrow (on Friday) as a peace gesture, Prime Minister Imran Khan announced on Thursday, the Dispatch News Desk (DND) news agency reported.
"In our desire of peace, I announce that tomorrow, and as a first step to open negotiations, Pakistan will be releasing the Indian Air Force officer (Wing Commander Abhinandan) in our custody," the prime minister said while addressing the Joint Session of the Parliament in Islamabad.
ہندوستان کے گرفتار پائیلٹ کو امن کی طرف قدم بڑھاتے ہوئے کل رہا کرنے جا رہے ہیں ، پاکستان کا بڑا پن #NadeemMalikLive #Pakistan #HumNews pic.twitter.com/a2WIsJvrJb

— Nadeem Malik (@nadeemmalik) February 28, 2019
The prime minister said that it is not in Pakistan's interest to escalate tension with neighboring India.
"War is not a solution. Escalation is not the answer. If India escalates, then so shall we. This shall not bring forth any plausible solution to our issues," the prime minister said.
The prime minister said that Pakistan acted with caution and restraint and replied to Indian aggression only to show that we are capable of safeguarding our sovereignty.
Imran Khan apprised the lawmakers that he also tried to hold a telephonic conversation with the Indian Prime Minister Narendra Modi yesterday evening just as a measure to de-escalate the situation.
However, he added that our efforts to de-escalate should not be considered our weakness. "We are indulging our efforts to maintain peace in the region," he said.
The prime minister said that i believe it is time now for deep introspection in India on how their government has handled the situation in Indian Occupied Kashmir (IOK).
Imran Khan also lauded Pakistani media saying "The maturity of the Pakistani media is praiseworthy." However, he added "With regret I state, I cannot say the same for the Indian media, which continues its warmongering unabated."