PESHAWAR, Pakistan: The Charge d'affaires of the Embassy of the Republic of Uzbekistan in Pakistan Lt Colonel Saadullah Tashmatov has said that Uzbekistan and Pakistan can play a major role in building peace and stability in Afghanistan.
In his remarks at a roundtable discussion on "Uzbekistan-Pakistan Joint Collaboration for Peace & Stability in Afghanistan" in Peshawar on Wednesday, he said that we have to work on it to diversify economic relations to achieve peace and harmony in the region.
The roundtable discussion was jointly organized by the Area Study Center (Russia, China & Central Asia) at University of Peshawar and the Islamabad-based Center for Global & Strategic Studies (CGSS).
The Uzbek Embassy Charge d'affaires Lt Colonel Saadullah Tashmatov was the Chief Guest for the occasion.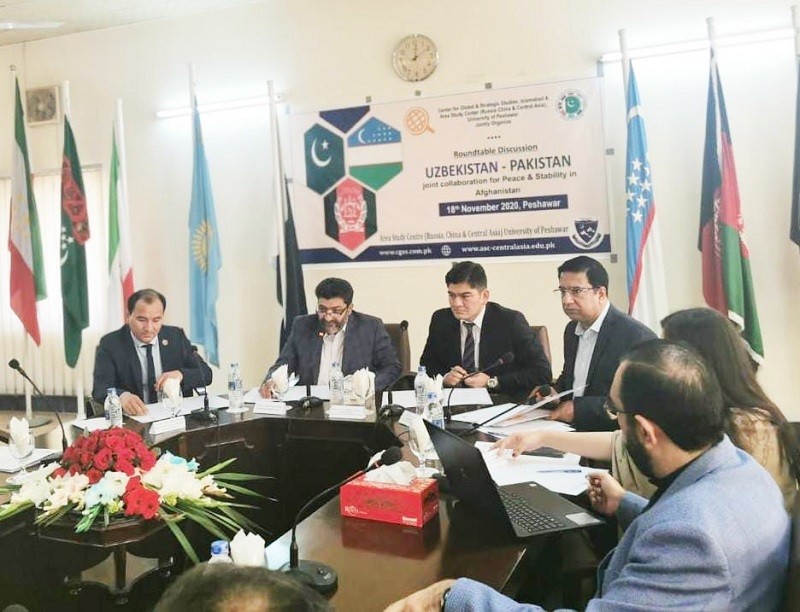 Taking part in the discussion, the Charge d'affaires also discussed the Railway project of Uzbekistan that will connect the three Countries which is another big step to enhance connectivity among them.
The Uzbek Embassy Charge d'affaires also emphasized on the Shanghai Cooperation Organisation (SCO) platform which is important in this regard.
Moreover, he appreciated Pakistan rice production which is very famous in Uzbekistan and has huge demand. He also said that trade between Uzbekistan and Pakistan should need to be expanded in all sphere, we have a huge potential of trade and also have deep cultural ties which is very essential for both Countries for further enhancement.
The Charge d'affaires also told about the translated book, "Zahir-ud-din Babar" and expressed that such initiatives of collaborations and activities must expand further and implemented to the next level.
Earlier, the roundtable discussion commenced with the welcome address by the Director Area Study Center (Russia, China & Central Asia) at University of Peshawar Professor Dr. Shabbir Ahmed.
Dr. Shabbir Ahmed said that as immediate neighbors, Pakistan and Uzbekistan are peace holders for Afghanistan and a peaceful Afghanistan is a prerequisite for regional stability.
The Research Executive at CGSS Ms. Minahil Shawal Afridi presented an overview of CGSS cooperation and collaboration with various Think Tanks in Uzbekistan.
Ms. Minahil Shawal Afridi highlighted Pakistan Uzbekistan relations, joint collaborations, and future prospect between both countries. She discussed institutional cooperation and how it has remained fruitful in enhancing bilateral ties between Uzbekistan and Pakistan.
The Executive Director CGSS Lt. Colonel Khalid Taimur Akram said that many initiatives have been put forward and implemented by the Uzbek President Shavkat Mirziyoyev for enhancing the stability and prosperity of Uzbekistan's neighboring countries on important bilateral and regional forums during the recent years.
Lt. Colonel Khalid Taimur Akram said that Uzbekistan and Afghanistan are immediate neighbors with a common border and have affected each other's internal development on many occasions in the past.
By keeping this regional proximity of both Countries in mind, the Uzbek President Shavkat Mirzayeyov has devised an excellent far-reaching proposal for not only developing and reconstructing the Afghan economy but to provide the Afghan administration with much needed socio-economic support from important regional countries in Asia as well, he added.
The Head of International Relations Department at University of Peshawar Dr. Minhas Majeed Khan said that the China Pakistan Economic Corridor (CPEC) is one of the easiest ways to bring peace in Afghanistan.
Dr. Minhas Majeed said that Pakistan and Uzbekistan are working for a workable solution to win the hearts and minds of the people of Afghanistan through soft diplomacy. He said that the platforms like SCO and Economic Cooperation Organization (ECO) must be utilized in this regard.
Other panelists highlighted the importance of promoting regional integration and explained about geographically and culturally close ties between Pakistan and Uzbekistan.
They stressed on the need for the strategic and economic partnership for enhanced growth through integration and connectivity.
The panelists said that the exports between Afghanistan and Pakistan have been declined in past years. Similarly, Afghanistan and Uzbekistan also faced an enormous decline in exports, they said.
They emphasized that we need to further expand the trade volume between Pakistan and Uzbekistan through collaborations, partnerships, and joint projects as both countries have great economic potential.
The panelists emphasized that Pakistan and Uzbekistan can play a major role in facilitating negotiation between the Taliban and the Afghan government.