NAIROBI, Kenya: Pakistan plans to double its trade with Africa in the next five years, the Prime Minister's Advisor on Commerce Abdul Razak Dawood said as he participated in the first-ever Pakistan-Africa Trade Development Conference (PATDC) in Nairobi on Thursday.
The two-day PATDC began in Kenya's Capital with the participation of hundreds of African business representatives and public sector officials apart from the representatives of over 80 leading Pakistani companies.
In a statement, Razak Dawood said that Pakistan Africa Trade Conference (PATDC) is an initiative under the "Look Africa Policy Initiative" to bring the businessmen from Africa and Pakistan under one roof to explore ways to enhance trade.
The advisor said that it will help in achieving our shared vision economic development for betterment of people. He said that the time has come to translate our excellent bilateral relations into mutually beneficial economic gains.
Razak Dawood further said that the Ministry of Commerce's "Look Africa Policy Initiative" put into action since 2018, reflects of our broader policy parameters for Africa.
"Our Vision is to double the trade with Africa in the next five years. Increasing Pakistan's footprint in Africa by posting more Trade Envoys. We have opened 6 new Trade Wings in our Embassies in Africa, these include Algeria, Egypt, Ethiopia, Senegal, Sudan and Tanzania," the advisor said.
Meanwhile addressing the Inaugural Session of the Pakistan-Africa Trade Development Conference, the Commerce Secretary Sardar Ahmed Nawaz Sukhera highlighted the potential of trade and investment between Pakistan and the Africa Region.
The Commerce Secretary stressed on utilizing the trade and investment opportunities between Pakistan and Africa.
"This Conference would augur very well for enhancing trade and investment between African countries and Pakistan," Sukhera said.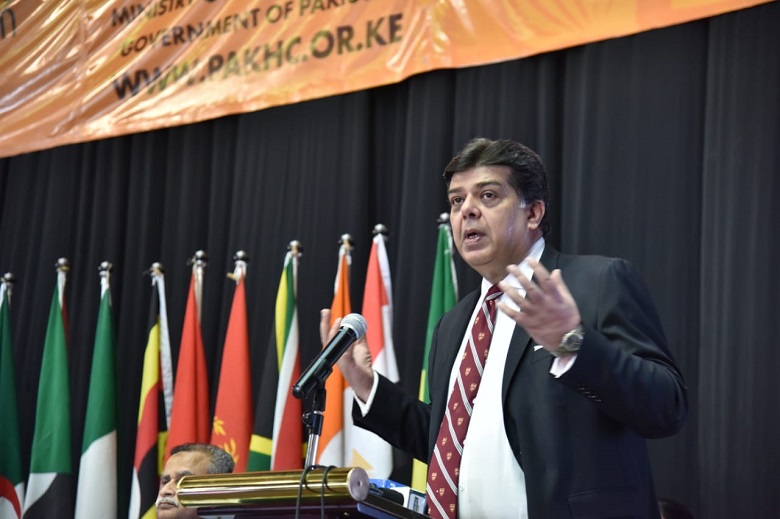 The Secretary Maritime Affairs Rizwan Ahmed briefing the Conference participants about the strategic importance of Karachi & Gwadar ports for the African exports to China, Central Asia and Afghanistan.
In his address, the Chairman East African Association Nikhil Hira invited the Pakistani business community to partner with the East African Countries to enhance trade for mutual benefits.
The Director General at the Kenyan Ministry of Commerce Ms. Patricia and the EU Ambassador to Kenya Simon Mordue also addressed the Conference.