KYIV, Ukraine: The Embassy of Pakistan in Kyiv organized the 81st Pakistan Day Flag Hoisting Ceremony on Tuesday morning at the Chancery building.
The Flag Hoisting Ceremony began with the recitation of the Holy Qur'an. The national anthem was played and the Ambassador H.E. Dr. Noel I. Khokhar hoisted the national flag.
The messages of President Dr. Arif Alvi, Prime Minister Imran Khan, and Foreign Minister Shah Mahmood Qureshi were read out on this occasion.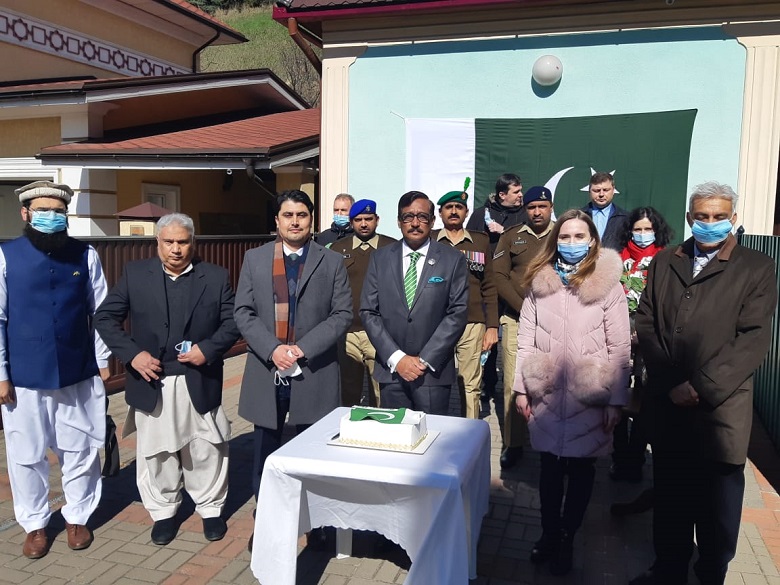 In his remarks, Ambassador Dr. Noel I. Khokhar said that we are gathered here today to commemorate the historic Pakistan Resolution adopted on March 23, 1940 in Lahore, where the Muslims of the subcontinent under the leadership of Muhammad Ali Jinnah resolved for a separate homeland. Due to the determination of our forefathers, Pakistan became a reality on August 14, 1947; a Country where the Muslims of the subcontinent could profess their beliefs, customs, and traditions.
In line with the aspirations of the nation and the dream of its founding fathers, various initiatives have been taken by our government for the socio-economic uplift of its people, providing equal opportunities to all regardless of their religion, and for strengthening the democratic institutions in the Country. Most importantly, the Pakistani state and society have shown zero tolerance for terrorism and the nation has offered numerous sacrifices in its fight against terrorism. Due to this unwavering commitment of the security agencies and people of Pakistan, the menace of terrorism has been uprooted from the Country.
The ambassador said that Pakistan has made a tremendous transition from being a Country hit by terrorism to the one which is now considered as one of the world's top tourist destinations. At the recently concluded "Islamabad Security Dialogue", both Prime Minister Imran Khan And Chief of the Army Staff (COAS) General Qamar Javed Bajwa once again reiterated that Pakistan is ready to solve all disputes through dialogue, provided India takes back its illegal actions in Indian Illegally Occupied Jammu and Kashmir (IIOJK). Pakistan is also making every effort to contribute its due share in bringing peace to Afghanistan.
The ambassador also spoke about the plight of the Muslims in the Illegally Occupied Jammu and Kashmir under the Indian occupation forces, especially the curbs imposed by the Indian government in the aftermath of August 5, 2019. Condemnation of the illegal actions of the Indian government in IIOJK by the UN and other bodies, world parliaments, and Human Rights Bodies was also highlighted. Pakistan's unwavering support for the legitimate struggle of Kashmiris for their right to self-determination was reiterated.
The Ceremony concluded with prayers for the well-being and prosperity of Pakistan, its people, and community members living in Ukraine as well as for the peace and prosperity of Ukraine.