Monitoring Desk: The majority of South Asian and Central Asian countries including China, Iran, India and Pakistan, Sri Lanka, and Bangladesh abstained from United Nations General Assembly Session voting on the Ukraine issue.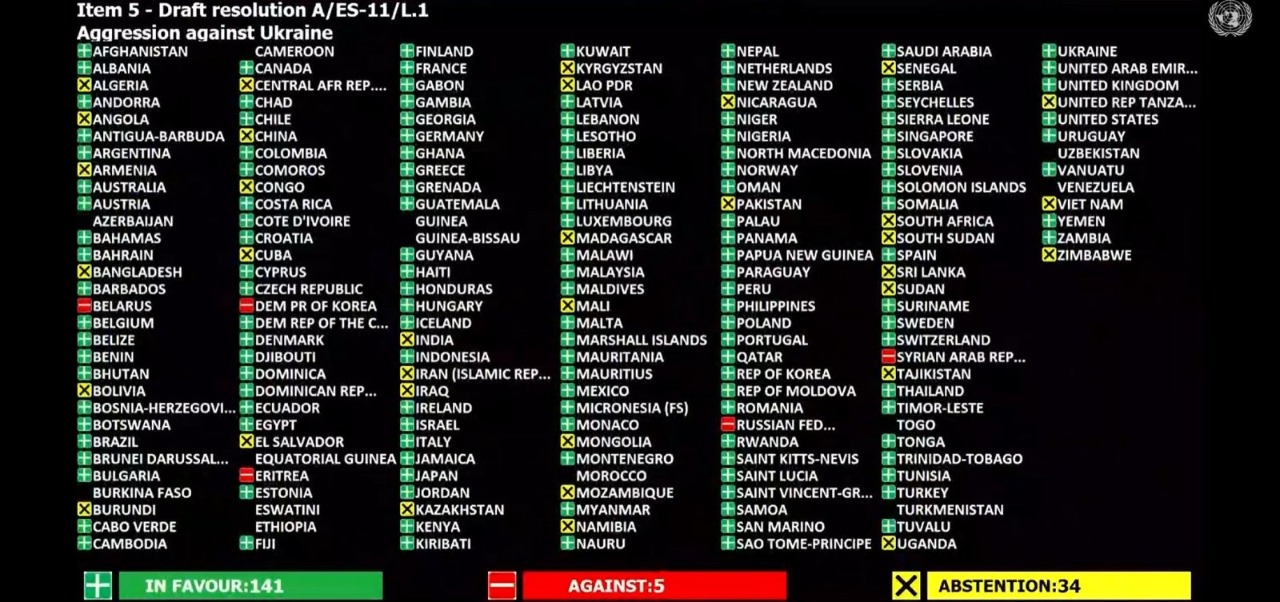 The situation sends a message that South Asian countries even US strategic partner India do not want to commit their engagement either with United State or with Russia. The nonbinding resolution was passed on Wednesday, with 141 countries voting in favor, 35 abstaining, and five opposing the resolution. Belarus, Syria, North Korea, Eritrea, and Russia were those who voted against resolution. Nepal from South Asia voted in favour of resolution.
A nonbinding resolution was passed overwhelmingly, condemning Russia for its assault on Ukraine and calling for its immediate exit.
The UN General Assembly has voted to rebuke Russia for its invasion of Ukraine and demand that Moscow's forces leave the former Soviet republic immediately.
The resolution, which needed a two-thirds majority of those voting to pass the General Assembly, also called on Russia to reverse its decision to recognize the breakaway Lugansk (LPR) and Donetsk (DPR) People's Republics as sovereign nations rather than Ukrainian territory.
Russian forces invaded Ukraine last week after President Vladimir Putin announced his country's official recognition of the LPR and DRP.
There has been tremendous pressure over Pakistan from the United States and Europe to stand against Russia but Pakistan has been avoiding taking sides.
Foreign Minister Makhdoom Shah Mahmood Qureshi received a telephone call from Mr. Josep Borell, Vice President of the European Commission and High Representative of the European Union for Foreign Affairs and Security Policy.
Views were exchanged on the current situation in Ukraine and the Emergency Session of the United Nations General Assembly.
The Foreign Minister recalled that Prime Minister Imran Khan had regretted the latest situation between Russia and Ukraine, and had shared Pakistan's hope that diplomacy could avert military conflict. Underscoring the adverse effects of conflict on developing countries, the Prime Minister has been stressing the importance of diplomatic solution.
While expressing deep concern at the recent turn of events, the Foreign Minister apprised the EU High Representative of Pakistan's principled position, which is anchored in the promotion of peaceful settlement of disputes through dialogue and diplomacy. He underscored that Pakistan has consistently stressed the need for de-escalation, renewed negotiations, sustained dialogue, and continuous diplomacy. The Foreign Minister emphasized the importance of a solution in accordance with relevant multilateral agreements, international law, and principles of the UN Charter.
Borell shared his perspective on the situation and highlighted its impact on international peace and security as well as global economy. He acknowledged the importance of continued efforts for finding a diplomatic solution. Foreign Minister Qureshi and High Representative Borell agreed to remain engaged.
Permanent Representative of Pakistan in United Nations Munir Akram while addressing the session was of the view that Pakistan's position is clear that matter should be resolved through diplomacy.