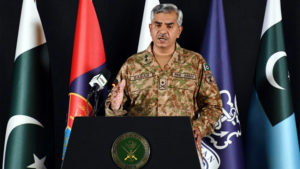 RAWALPINDI, Pakistan: Pakistan army has warned that it has taken recent statements of the Indian civil and military leadership seriously and if a war breaks out it would have unintended and uncontrollable consequences.
"Don't test our resolve and capabilities," the Director General Inter Services Public Relations (ISPR) Major General Babar Iftikhar said in a Press Conference held on Thursday when the nation is celebrating 'Surprise Day' to commemorate the first anniversary of the "Operation Swift Retort".
On February 27 last year, the Pakistan Air Force (PAF) carried out the "Operation Swift Retort" in retaliation to India's misadventure a day before, and shot down two Indian Air Force (IAF) fighter jets and also arrested the Indian Wing Commander Abhinandan Varthaman.
"We surprised those who wanted to surprise us," Major General Babar Iftikhar said in his maiden Press Conference as the DG ISPR.
The director general ISPR said that we have a close eye on India's military spending & keep ourselves updated accordingly. "Nothing to fear. We are well-equipped," he said.
Major General Babar Iftikhar said that at a time when India is burning in riots, Pakistan treats its minorities with equal rights.
Furthermore, he said that Pakistan retaliates and locks military targets of India at the Line of Control (LoC) and the Working Boundary whereas India shoots at innocent civilians.
The DG ISPR said that Pakistani civil and military leadership is aware of games played by India to divert the World's attention from its internal issues.
Apprising the media representatives about the war on terrorism, he said that over 1,200 small and big Intelligence Based Operations (IBOs) were carried out in which 17,000 terrorists were killed.
The DG ISPR said that the Operation Radd-ul-Fasaad has been continuing to achieve stable, peaceful and normalized Pakistan. He said that the writ of the state has been reestablished across the Country. He said that Pakistan paid a heavy price in the war on terror sacrificing 80,000 lives and suffering economic loss of US$ 180 billion.
"Wars are fought with nation's support, patriotism and professionalisms of armed forces," he said.
Earlier in a tweet, the director general ISPR said that February 27 commemorates the resolve of Pakistan armed forces against any aggression.
The director general ISPR said that the way we responded on this day is a proof that any misadventure by enemies of Pakistan will always be defeated. He said that our adversaries will be surprised with our bold responses every time.