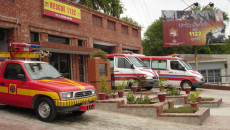 LAHORE, Pakistan: Over 2,818 road accidents took place in Punjab on the first two days of Eid Ul Fitr due to reckless driving, the Director General Rescue 1122 Dr. Rizwan Naseer said on Tuesday with concern.
Earlier today, two road accidents in Pattoki and Bhakkar took at least eight lives including of women and a two-month-old bay.
In both accidents, members of two different families lost their lives.
The first accident occurred in Habibabad area of Pattoki wherein a car collided with a train at railways crossing while in another accident in Bhakkar, a motorbike fell into Shahpur Sadder Canal resulting in deaths of four persons including two women and a two-month-old baby.
Meanwhile, the Chief Minister Punjab Sardar Usman Buzdar visited Balochistan's Musakhel district and announced to establish a Rescue 1122 Station in the area.
Usman Buzdar said that 4-wheel vehicles will be provided for the Musakhel Rescue 1122 Station.
وزیراعلیٰ پنجاب @UsmanAKBuzdar کی بلوچستان کے پسماندہ ترین ضلع موسی خیل آمد: وزیراعلیٰ سے قبائلی عمائدین اور دیگر شخصیات کی ملاقات۔
▪︎پنجاب حکومت کی جانب سے موسی خیل میں ریسکیو 1122سٹیشن کے قیام کا اعلان۔ pic.twitter.com/qDOb9FtIaX

— Government of Punjab (@GOPunjabPK) May 26, 2020
Besides, the Chief Minister also announced the establishment of a branch of Bank of Punjab and an ATM Machine in Musakhel.
Moreover, he said that a NADRA Office will also be established in the district in addition to the provision of buses for the College.