By Mati Ullah Khan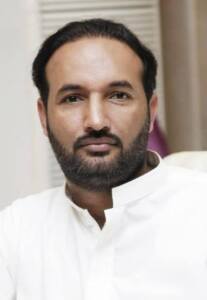 Sometimes mind falls perplexed, wondering what to write about as from adhering to political norms to maintaining a poised gesture in interactions with opponents, our representatives seem to be least concerned about and moral values have almost become extinct in Pakistani politics.
Since the outset, we have been imparted a political notion that the difference of opinion upholds the beauty of democracy and no matter people's ideas differ to each other, sanity must prevail and one must not violate ethics. However, the political state of affairs in Pakistan is vice versa; not only our politicians tend to betray their lords and become turncoats in pursuant of staying in power but they also resort to using slur and obnoxious language against opponents.
The recent episode of Sindh House is the replica of the Operation Midnight Jackal and Changa Manga Politics, the Country witnessed decades ago, vindicating the notion that our politicians are neither ready to learn from the past nor ready to rectify themselves.
Infused with joy over the betraying of PTI MNAs to favour the opposition against Prime Minister Imran Khan, the Pakistan Muslim League-Nawaz (PML-N) leader Khawaja Saad Rafique called them 'hero of the nation', justifying their treachery with the ruling party as indispensable to get rid of "manhoos (ominous)" government. So if the Operation Midnight Jackal and Changa Manga Politics, which PML-N's now ally PPP has always lamented of being targeted through, were part of a nefarious design to topple an elected government, how can the Sindh House Politics be endorsed on the Constitutional, legal and moral ground?
Setting aside this aspect of our politicians' hypocritical, illegal and unethical approach, another despicable act, they have no shame to apply without considering its repercussion on the society, is the use of foul language on national TV and public gatherings. Last night, in the Show 'On The Front with Kamran Shahid' on Dunya TV, the Prime Minister's Special Assistant for Political Communication Dr Shahbaz Gill repeatedly abused the PTI dissent lawmaker Ramesh Kumar Vankwani with the word 'dalla' while in another program 'News Eye' on Dawn TV, the PTI leader Aliya Hamza called Sindh House a 'brothel', PTI dissents 'worse than prostitutes', and opposition leaders buying their conscience as 'pimp'. Undoubtedly, the remarks by PTI leaders against dissenting voices are extremely deplorable and intolerable, reflecting the mindset and absence of endurance they have towards their opponents.
Certainly, Shahbaz Gill and Aliya Hamza are not the first and sole politicians who have resorted to such derogatory remarks. From Zulfiqar Ali Bhutto to Imran Khan, most of our 'beloved politicians' are addicted to mocking & mimicking the opponents, as well as uttering abusive & filthy words for them in public.
Among a few other things, the Chairman PTI and Prime Minister Imran Khan has also been under fire by critics since he politically rose to the fame for his unwarranted remarks about opponents. The former legendary fast bowler and now turned politician Imran Khan has always been aggressive in nature, and according to his teammates, at times he also used to abuse youngsters on the cricket field. His assertive and hostile nature even didn't subside when Imran Khan entered politics. Though Imran Khan enjoys a fan following of millions of people in the Country and across the globe which none of his fellow Pakistani politicians or sportsmen can claim to ever have but he also could never resist himself from using abusive language in public speeches. From calling his opponents 'chor/daacu' to vitiating Maulana Fazlur Rehman's name as 'Fazlu' and mocking Bilawal Bhutto in public gatherings, Imran Khan has never felt shy of resorting to reach that extent, and rightfully he has been lambasted for that by sane voices. 
The former Prime Minister Zulfiqar Ali Bhutto, the first love of most of Pakistani senior journalists, has also been talk of the town for his abusive language against opponents. Once addressing a charged up crowd after Pakistan fell apart and led to the establishment of Bangladesh, Bhutto called Bengalis as swine. ZA Bhutto also used to ridicule his opponents as he called Abdul Qayyum Khan as 'Double Barrel Khan', Asghar Khan as 'Aaalu Khan', and Mumtaz Daultana as 'chooha' etc etc.
The former three-time Prime Minister Nawaz Sharif also used to swear at then arch-rival PPP leaders and labeled ZA Bhutto as 'traitor'. Also who can forget probably the most malicious hate campaign launched by Nawaz Sharif against Benazir Bhutto when doctored inappropriate photos of the slain leader were thrown from the helicopter. The PML-N leaders also persecuted Benazir with humiliating remarks i.e 'peeli taxi' while especially the party's stalwart Khawaja Asif earned the disrespect for his derogatory remarks against women parliamentarians. In the PML-N's last regime, Khawaja Asif called PTI's MNA Shireen Mazari 'tractor trolly' on the floor of the House. Interestingly, it was Khawaja Asif who first named Maulana Fazlur Rehman 'diesel' after the latter received especial permits in Benazir Bhutto's second regime to supply diesel to Afghanistan.
In response to PML-N's verbal onslaught, Benazir Bhutto also didn't opt to retreat entirely in this regard. She vilified her main opponent Nawaz Sharif with names i.e 'gunja sher', 'loha chor', and 'vote chor' etc which she later admitted to have uttered in the famous Geo News Program 'Jawab Deh'. 
Unfortunately, the new political leadership of the Country, which was anticipated to be opting a different approach than their ancestors, seems to be paying little heed to the issue. For instance, Bilawal Bhutto once went on to call Prime Minister Imran Khan 'beghairat' on the floor of the National Assembly. Similarly, he has been found calling ministers 'bhonkny waly' and Sheikh Rashid as 'devil of Pindi' and 'filthier than gutter water'.
Alas, it doesn't end here; PTI's Fayyaz ul Hassan Chohan and PML-N's Rana Sanaullah Ullah & Abid Sher Ali are also among those top guns who are accustomed of continuously spitting venom against opponents. But prior to asking our politicians to introspect on their public appearances, we must also admit that it's an evident of how our society has been shaped as the masses are triggered by loaded remarks of politicians or how PML-N's Shaikh Rohale Asghar justified his abusive language in a brawl against PTI's Ali Nawaz Awan during the National Assembly's Session, saying 'ye (gali dena) Punjab ka culture hai'.
Note: The writer Mati Ullah Khan has been working as the News Editor for Dispatch News Desk (DND) news agency since 2012. He did his Masters in International Relations (IR) from International Islamic University Islamabad (IIUI). He can be reached at matiullah.pk@gmail.com.
Disclaimer:
The views and opinions expressed in this article/Opinion/Comment are those of the author and do not necessarily reflect the official policy or position of the DND Thought Center and Dispatch News Desk (DND). Assumptions made within the analysis are not reflective of the position of the DND Thought Center and Dispatch News Desk News Agency.