Crispy Onion Rings` Ingredients And Recipe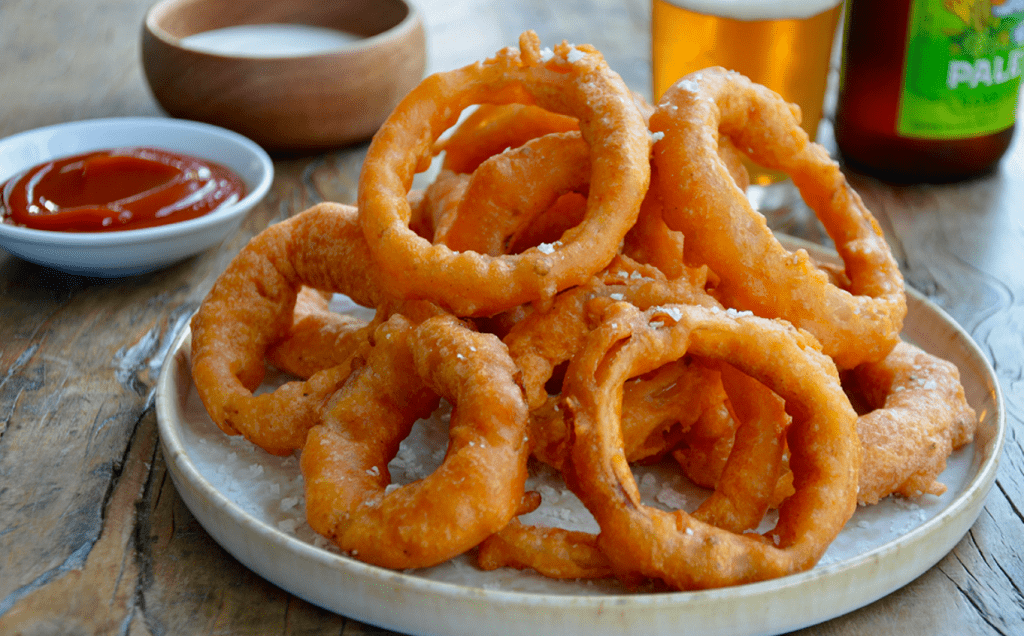 Ramadan is all about having a good time with friends and family while enjoying scrumptious treats at Iftar. However, when it comes to the choice of the food to be included in the Iftar menu daily, everyone has a different taste and list of wishes. Some like pasta, and others like to have samosas, fruit chaat, or cutlets, but one thing is sure, no one can resist the absence of crispy Pakoras from the Iftar table. So with a twist in the form of Pakoras, here we have the recipe of crispy onion rings which is easy to make and delicious to eat!
Ingredients
In order to make crispy onion rings, all you need to have is:
Two medium-sized onions
All-purpose flour ¾ cup
One egg
Water (as per requirement)
Salt to taste
Ice-cold water in a separate bowl
Oil to deep fry
For dip sauce, note down the following ingredients:
Mayonnaise 1-3 tablespoons
Bar-B-Que Sauce 1 tablespoon
Cream 1-2 tablespoons
Onion Rings Recipe
Estimated preparation time: 30 Minutes
Follow the steps as described and you will have the best results:
Cut onions in slices and separate each of the rings by pressing at the mid-central part of onion slices.
Take ice-cold water in a bowl and leave the onion rings in it for 10 minutes. It will help in making the onion rings crispy.
In a separate bowl, beat an egg and add salt to taste.
Now add all-purpose flour to the egg and beat well till it gets smooth.
If the mixture looks dry, add some water to make it creamy so that it can stick well on the rings.
For onion rings, strain out the water after 10 minutes and sprinkle some all-purpose flour on the rings. Make sure it covers all of the rings properly.
Heat the oil in deep frying pan up to medium level.
Now dip the onion rings in the batter while properly getting it coated.
Fry it deep till it gets golden brown. Repeat the process for all rings.
For dip sauce
Dip sauce for onion rings can be made within no time by following these steps:
Take a small bowl and add mayonnaise in it.
Add Bar-B-Que Sauce and mix it well.
Finally add cream and mix properly. Dip sauce is ready!
Try out this recipe and enjoy this scrumptious treat with your family!