Monitoring Desk: The Organisation for Economic Co-operation and Development (OECD) in its report titled "COVID-19 crisis response in Central Asia" indicates adverse Social and Economic Cost of COVID-19 in Central Asia.
The Report indicates serious implications of pandemic and believes that Central Asian governments should move rapidly to expand the capacity of their healthcare sectors and cushion the economic effects of containment policies and their effect on consumption.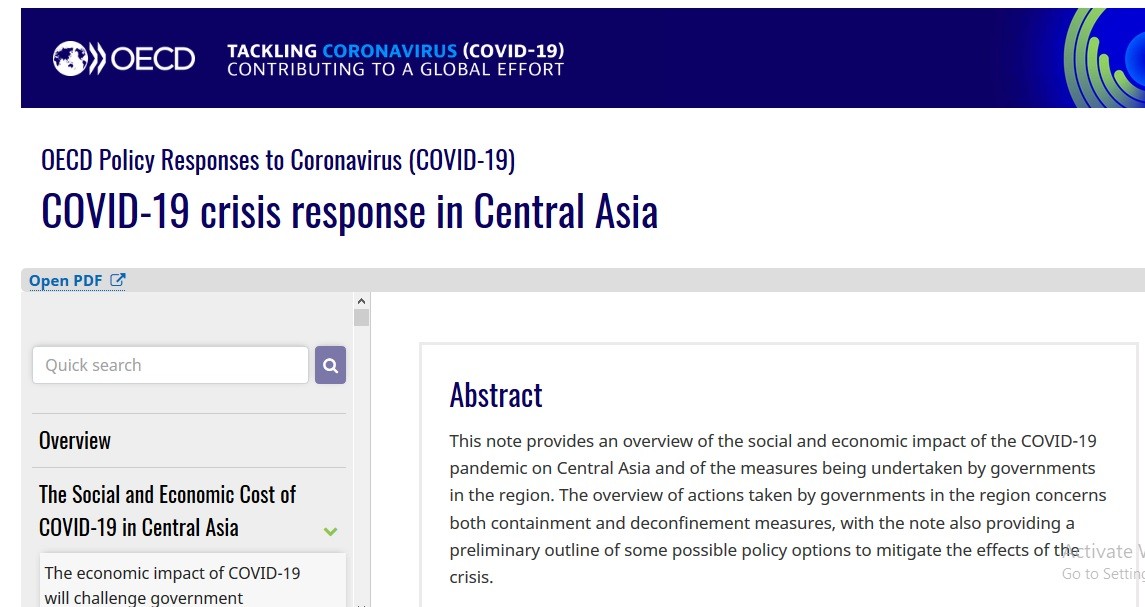 The Report says that Policy interventions must aim to sustain household income, business activity, and the macroeconomic fundamentals to allow for a quick and sustainable recovery. While these measures imply substantial costs to public finances, the cost of inaction – long-term destruction of productive capacity – would be even higher.
The Report particularly indicates that falling remittances will further squeeze consumption and government revenues in Central Asian countries.
"Russia's decision in March 2020 to close its borders to non-Russian citizens, though subsequently relaxed in respect of citizens of the Commonwealth of Independent States, highlighted the precariousness of many Central Asians' reliance upon that country for employment.
In Tajikistan and Kyrgyzstan, for example, where the domestic private sector has been unable to provide a sufficient quantity of quality jobs, labour migration has been an economic lifeline for many households, with remittances accounting for around 30% GDP in both countries (World Bank, 2019) (EBRD, 2019). Yet the countries to which labour has traditionally migrated – in particular, Russia and, to a lesser extent, Kazakhstan – are themselves highly dependent on the export of commodities. Recession in such economies will have an impact on the demand for labour, invariably affecting many households across Central Asia.
In April, the World Bank estimated that remittances to Central Asian economies could fall by more than a quarter this year, a sharper fall than all other regions analysed (World Bank, 2020). Kyrgyzstan already saw remittances fall by 9% year-on-year in the first quarter (IMF, 2020). Any significant fall in remittance revenues would, therefore, have serious implications for Central Asian economies' current account deficits," says OECD Report.