Company hosts exclusive event in Middle East's most innovative city, connecting businesses with strategies and tools to create a better customer experience
DUBAI, UAE: Vonage (NYSE: VG), a business cloud communications leader, hosted Nexmo Socials this week, an exclusive thought leadership event for local tech and business leaders at the Armani Hotel in Dubai.
Showcasing emerging communications technologies that are revolutionizing the customer experience and transforming the way today's businesses operate, executives from Vonage and Vonage's customers using Nexmo, the Vonage API Platform, shared details on the use of these technologies and how they are leveraging APIs (application programming interface) and integration into social messaging apps to enable businesses and customers to communicate more effectively and more simply – driving better customer engagement and a more meaningful customer journey.
Through Nexmo, Vonage provides tools for voice, messaging and phone verification services, allowing developers to embed contextual, programmable communications into mobile apps, websites and business systems. Nexmo APIs enable enterprises to easily communicate relevant information to their customers in real time, anywhere in the world, through text messaging, chat, social media and voice.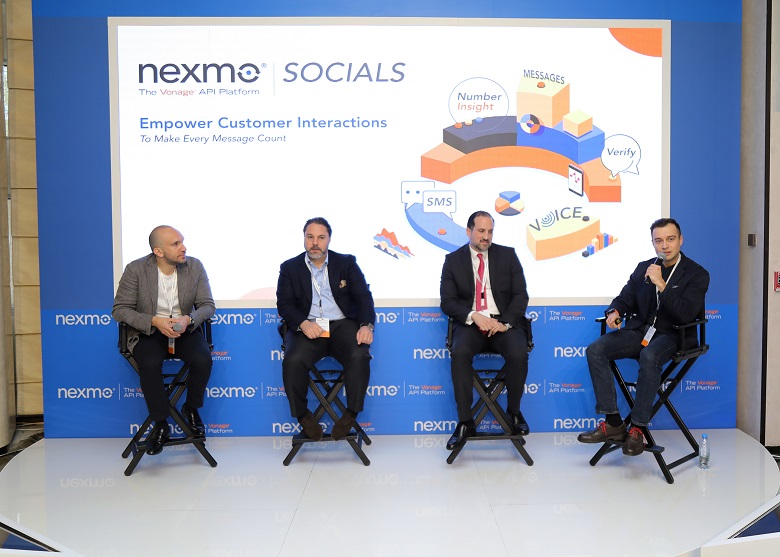 Omar Javaid, Chief Product Officer at Vonage, delivered a keynote presentation and expanded on the possibilities of "Building Better Customer Relationships, One Interaction at a Time."
"We are thrilled to host the Nexmo Socials event in Dubai, where we have innovative customers that are using our products and services to change the way business is done across their industries," said Mr. Javaid. "Enhanced communication capabilities help businesses create more meaningful interactions that address customer needs and wants, across all channels. With Nexmo APIs, our customers are enhancing the way they connect with their own customers through personalized and contextual communications for deeper engagement and more meaningful relationships."
Nexmo Socials also featured several panel discussions and presentations, demonstrating how real companies are harnessing programmable communications via APIs today to create memorable, meaningful connections with their customers, ultimately, driving better business outcomes. Featured Vonage customers included international logistics service company, Aramex; Lebanon's largest bank, Bank Audi; and information and technology services company, VIAFONE Technologies.
Mohammed Sleeq, Aramex CDO, discussed how Nexmo APIs are helping his businesses by enhancing the customer experience. "Intelligent technology has the potential to solve real-world business problems across industries, from consumer-focused applications to businesses across customer-facing industries like ours. Powered by Nexmo APIs, we are able to create customized and personal connections with our customers through tailored communications. These are solutions that are revolutionizing the way we engage with customers, elevating the experience for them and differentiating us among the competition."
"The ability to interact with our customers via their preferred channels such as social messaging apps or chat, is helping us to connect with them in a way that leaves a lasting impression and a better overall experience," said Omar El-Zein, Head of Innovation for Bank Audi. "Nexmo APIs enable us to address the complex data requirements for financial organizations while also creating that personalized and customized experience, providing the tools we need to deliver a customer journey that is not only flexible, convenient and contextual, but reflective of our company's innovative culture."