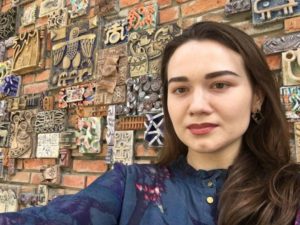 BAKU, Azerbaijan: As Azerbaijan is set to witness the Parliamentary Elections on February 9, the Ukrainian Journalist Marina Goncharuk has said that the new Parliament to be formed in Baku will be in line with systemic reforms which are underway in the former Soviet Republic.
In an interview with Azerbaijan's State News Agency AZERTAC, Marina Goncharuk noted that all the developments in Azerbaijan, a friendly and strategic partner Country for Ukraine, arouse great interest among the Ukrainians.
"We are well aware of the systemic and efficient reforms policy carried out by the Azerbaijani President Ilham Aliyev in the country. The people of Azerbaijan have a positive attitude to reforms policy of the President. Therefore, the renewed Azerbaijani parliament will be an important support in ensuring systemic development and prosperity of the country. It is a milestone event that a great number of young people, public figures and activists participate in the elections. To my opinion, the elections to be held in Azerbaijan will once again confirm that the ongoing process in the country is democratic and transparent, and the people will elect the candidates whose pre-election platforms meet people's expectations. We are always happy with the well-being of Azerbaijani people and the ongoing positive processes in your country," she said.
The Ukrainian journalist noted that the upcoming elections will open up an opportunity for the people to elect the most active candidates who will contribute to conducting reforms in the country.
"The main thing is that the fundamental principles of the parliament's activity-respect for international law and Azerbaijan's legislation, the realization of the state's interests and meeting expectations of the people, constructive and effective interaction with parliamentarians of other countries, including Ukraine, working for the welfare of the country-remain unchanged," Marina Goncharuk added.