By Babar Ala ud din
Pakistan's first formal/ integrated National Security Policy was approved by National Security Committee last month which includes the highest echelons of the country's civil and military leadership. A comprehensive Security Policy to be followed at the national level was long overdue. The work on framing an integrated national security policy began in 2014 by the PML-N's govt and has finally concluded now.
Due to its geographical location and internal/ external security dynamics, Pakistan is considered to be a security state hence our policy at the national level has always been driven by the dictates of military security ( perhaps essentialized by the ground realities ).
While evolving a comprehensive national security policy at the national level is an extremely welcome development even more important to evolve it through consensus. Though the government is upbeat about this achievement, it is a fact that a broader national consensus on this most important issue has not been achieved. The draft policy was neither brought up to the parliamentary committee on national security nor it was debated in the Parliament.
Without really questioning the confidentiality of specific contents the major contours could have been deliberated upon across the political divide rather even a public debate on the policy could have been encouraged to evolve an all-encompassing national consensus. It's extremely important to discuss the thread bears of threat perception in order to mount requisite response which can be accentuated by inviting the views of all important stakeholders. National Security Policy pertains to the state and not to any particular govt as it has to stay forever ( with time to time changes as per the dictates of a situation) hence its prime responsibility of the government of the day to take everyone along and build a national consensus spearheaded by none other than the PM.
Unfortunately, PM Imran Khan does not believe in reaching out to the opposition and building consensus due to which we see a visible divide/discontent on almost all important national issues. Increased political polarization is seriously damaging the country. What to talk of reaching out to the opposition he does not even attend those meetings where important leaders from the opposition benches are invited (in a few cases a constitutional requirement / parliamentary custom). This also was a major reason cited by opposition members to boycott the meeting of a parliamentary committee on national security where said National Security Plan was to be presented.
Our internal/ external security threats are numerous which have been further augmented/ multiplied by continued economic meltdown hence there is an urgent need for all the stakeholders to show unanimity. The PM must come out of his ego and animosity for his political opponents, accept their relevance which has also been authored by the people of Pakistan, and reach out to everyone for evolving a much-needed national consensus on important national issues.
There is still time to table this policy document in an in-camera session of the Parliament for debate to make it a truly national policy. Political stability is a must to ensure the country's security for which the doors of dialogue and consultations should always be kept open.
The government's political will is very vital to evolve, initiate and implement any policy for which a unanimous approach is a must as it also ensures/enhances public confidence. Earlier the govt realises this better it would be for the country as a whole.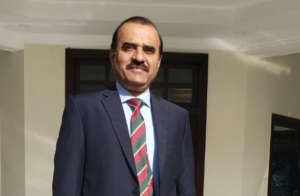 Note: The writer retired from Defence, Security, and strategic organization.
Disclaimer:
The views and opinions expressed in this article/Opinion/Comment are those of the author and do not necessarily reflect the official policy or position of the DND Thought Center and Dispatch News Desk (DND). Assumptions made within the analysis are not reflective of the position of the DND Thought Center and Dispatch News Desk News Agency.