ISLAMABAD, Pakistan: The National Security Adviser Lt. General (retd) Nasser Khan Janjua has said that military strategy always on the lead has injured the Afghan Society which has made the war so perpetual with no end in sight.
"We all need to invest in the peace instead of war. We want to work with the US and Afghanistan in a cooperative framework," Nasser Janjua said while talking to a media delegation comprising four members from the United States which called on him in Islamabad on Tuesday.
"Let's, collectively invest in peace and bring the closure to this perpetual conflict instead of wining it," he added.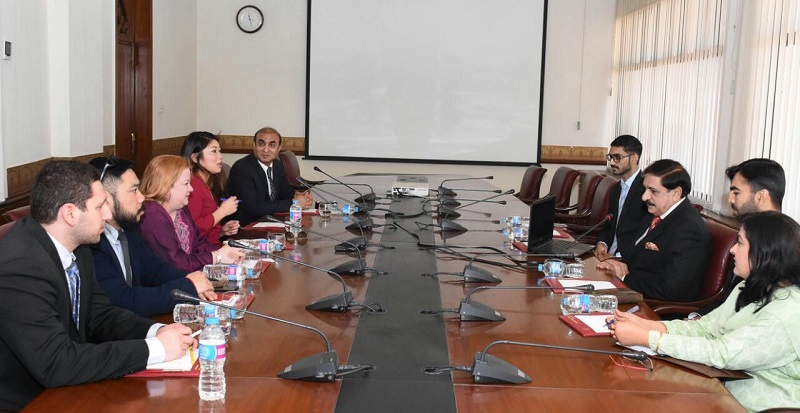 The adviser highlighted, in detail, the different intriguing dimensions of Afghan conflict and said that no love stories are born out of use of force.
In response to a question, he appreciated the Afghan President Ashraf Ghani's offer to Taliban as a positive step forward towards the political reconciliation in Afghanistan.
"This is what we were insisting for since so long," Lt General (retd) Nasser Janjua said.
The national security adviser said that Pakistan is committed to have friendly and cooperative relations with all the regional countries.
The adviser also sensitized the delegates over the regional security environment and stressed that the US and the West should play a positive role in maintaining the security of the region which over a period has become quite fragile
Nasser Janjua also gave the delegation a detailed presentation on regional security situation with a particular reference to Pakistan focusing on how Pakistan, its people armed forces, law enforcement agencies (LEAs) and Intelligence agencies performed brilliantly and resiliently after 1979 and 9/11.
Lt General (retd) Nasser Janjua highlighted the character and role of Pakistan in the recent history and the sacrifices rendered by Pakistan in on going war against terrorism. He reiterated that Pakistan is a morally correct country and had always stood on the right side of the history and along with the world to contribute for peace, stability and prosperity.