Namak Harma Country With its Namak Haram Prime Minister
Did you know that India is literally The Namak Haram Country? Well… it's not me ruthlessly naming India as Namak Haram Country, it is what Google shows every time you will be searching the Namak Haram Country query. Interesting, isn't it?
Although there should be a number of reasons for India to be called Namak Haram Country but the actual reason is actually related to salt, the real Namak. Here is what we found out:
India – The Namak Haram Country
Everyone was wondering about why Google is showing India as The Namak Haram Country and here we have found the reason behind it.
Indians are eating Pakistani Namak and then they don't stop to spew hatred against Pakistan. Surprised? Yes, literally Indians are eating Pakistani Namak.
Ajwain and Sendha Namak are two forms of Salt being imported by India from Pakistan. This was highlighted by Varun Grover, an Indian comedian on Twitter. This went on trending at that time and no one could stop the storm of trolling by Pakistanis and Indians in this regard.
Ajwain is being imported by India because of the hiked prices locally while Pakistan's 'Sendha Namak' is a routinely treat for the Hindus in India. Though we send them love but don't know from where they get so much energy to puke against Pakistan. That's what proves them to be actually Namak Haram. 
The Other Factors
We know that Prime Minister of India Narendra Modi is acting so cruel towards the citizens specifically with the Citizen Amendment Act (CAA). Hundreds and thousands of Indians came out on the roads against this step and criticized PM Modi for being the one to break India under discrimination.
Muslims were brutally beaten by the activists and there was no one to save them. Regardless of the situation turned on across the state, PM Modi routinely tweeted to raise voice against the on-going violence so that he can make his people feel sure that he is not the one to direct or being in the favour of all these cruel activities.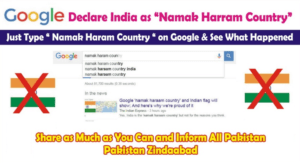 The prolonged state of war in Indian Occupied Kashmir wasn't enough for Modi to be satisfied with that he even created chaos in India overall. The bloodshed and violent protests made everyone concerned about what will be the future turning out as.
According to Daily Times, "People have recognized the CAA is communal and unconstitutional, and that CAA and all India National Register of Citizens (NRC) threaten to turn Muslim citizens into "infiltrators" and non-Muslim citizens into "refugees." In other words, the law takes steps to make Muslims stateless in their very own nation. As of now, confinement centers are being developed everywhere in India to host such individuals who will be proclaimed dubious residents".
Well… this is just a glimpse of what is going on in India in terms of CAA Bill and the whole world knows how the innocent people of Indian Occupied Kashmir have been suffering throughout the situation caused by the curfew imposed by PM Modi since August 5, 2019.
Pakistan always proceeded with positive gestures to arrange table talk with India and settle down Kashmir issue along with other bilateral matters however, India has always responded with ferocity. Pakistani Govt. even opened Kartarpur Corridor for the Indian Sikhs to facilitate them in practicing their religious activities with peace but India even then played negative with the controversial decision of Babri Mosque at the same day of the inauguration to hurt the sentiments of the Muslims in Pakistan and all over the world.
It's an on-going series till India learns the lesson and Pakistan is working with patience throughout to retrieve better results with a hope that Kashmir would be freed one day. For now, it is important for stability in India that PM Modi takes decisions wisely, or otherwise The Namak Haram Country would not be living in unity.
This article was updated in November 13th 2020