New Delhi, India: Dalit scholars, Prof. Anand Teltumbde and editor, columnist and activist Gautam Navlakha were taken into custody by the Indian state for raising voice for Kashmir as well as for Delhi massacre of Muslims.
However, they are charged in a dubious case instead of being arrested for standing against ruthless actions of BJP government.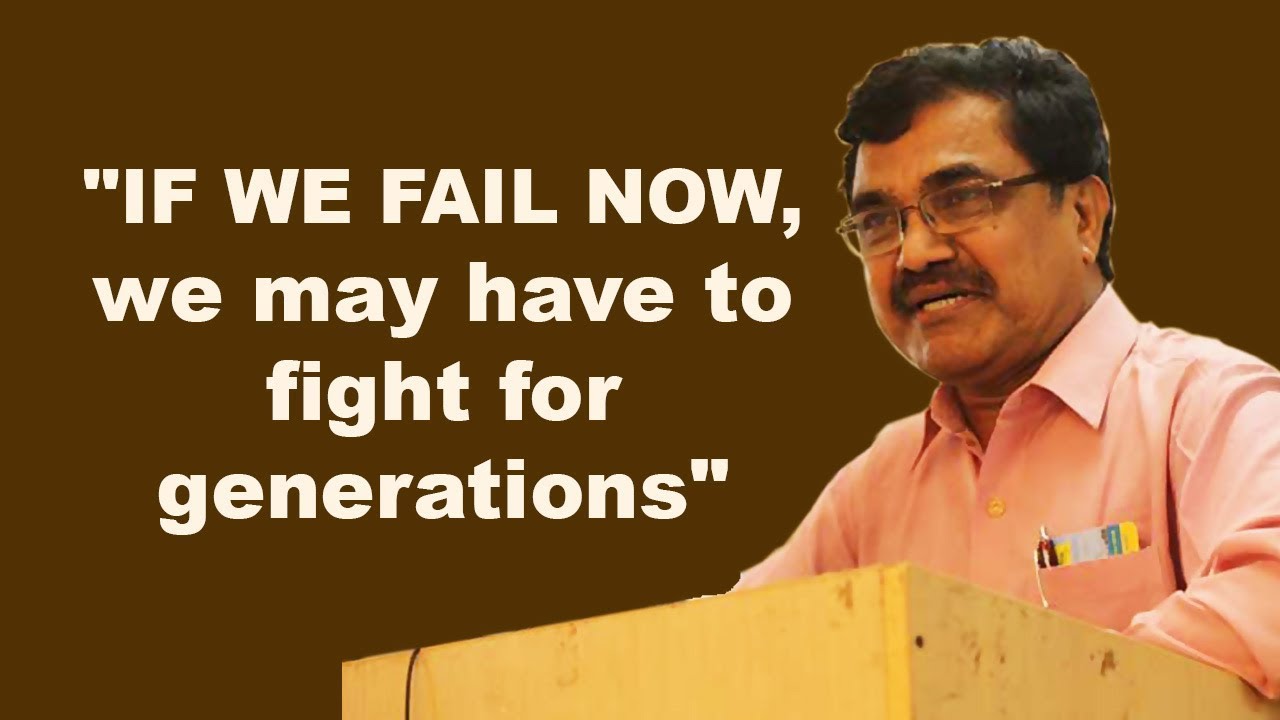 Today is 129th birthday of the architect of the Indian Constitution, Babasaheb Dr. B. R. Ambedkar who is still known as an icon for Dalit and other low caste Hindus and Teltumbde is the grandson-in-law of Babasaheb Ambedkar.
"And on this very day, one of India's finest Dalit scholars, Prof. Anand Teltumbde and editor, columnist and activist Gautam Navlakha were taken into custody by the Indian state, for their alleged involvement in the infamous 'Elgar Parishad – Bhima Koregaon' case—-a fabricated and unimaginably fictional case under which several prominent Indian democratic rights activists are charged under the draconian Unlawful Activities Prevention Act (UAPA)," Tamil media.
The innocence of Anand and Gautam, or others like Surendra Gadling, Sudha Bharadwaj, Mahesh Raut, Rona Wilson, Sudhir Dhawale, Varavara Rao, Arun Ferreira, Vernon Gonsalves and Shoma Sen, is not the real issue here. It's as if everyone knows these cases will fall flat and they will be released after a few years, if not months.
But as Gautam Navlakha said in his note to friends before his official 'surrender', the process of trial under incarceration is the punishment itself! Fighting an illegal legislation like UAPA, is the punishment. That's exactly the reason why UAPA, one of the most draconian and unreasonable detention laws is applied in this case along with 'anti-national', 'sedition' charges.
It was freedom fighters Bhagat Singh and Bhatukeshwar Dutt who said, "if the deaf are to hear, the sound has to be very loud"! They were being tried by the British under the Legislative Assembly Bombing case, in 1929.  India's current fascist regime is very easily comparable to the British regime!
While Teltumbde's crime is to be a 'thinking Dalit' (an existential impossibility according to Hinduism!), Navlakha's crime is his political solidarity and association with Adivasis and Dalits and the oppressed peoples of Kashmir, Naga areas and Chhattisgarh – making him an active enemy of the nationalist Indian state.
Since the early 1990s, Gautam has been active in Kashmir related campaigns. A Convener of the 'Kashmir Committee' and Secretary of the People's Union for Democratic Rights (PUDR), he is also a founding member of the Pakistan India People's Forum for Peace & Democracy (PIPFPD). He, in fact, is the person who named it such. He was clear that PIPFPD must be kept as a political organisation of people of India, Pakistan and Kashmir – than just a 'friendship club'. He argued and debated his way through PIPFPD, a large membership based organisation with chapters in India and Pakistan, formulating it's formidable position supporting the political aspirations of the people of Jammu and Kashmir.
Gautam's most important contribution has been his support to creating an independent space for Kashmiri civil society, amidst the conflict and the treacherously violent situation of the region. Especially in the last two decades, he worked amidst mistrust and absolute state hostility, along with several comrades with many political positions, just to make sure that Kashmiri people could garner national and international space to advocate their cause, their political aspirations.
Gautam's or Anand's battle is not one of the individuals concerned alone. Their battle is for the idea of democracy, human rights, equality, justice and dignity. Their battle is one for fulfilling the dream of Dr. Ambedkar, who was undoubtedly the greatest dissenter to the idea of India becoming a Brahmanical and authoritarian nation-state.
On this Ambedkar Jayanti, let us stay safe and fight the infection that's taking a toll on the human race! But let's also reaffirm our commitment to uphold the Constitutional values that were dear to Babasaheb. Let us fight the greater threats to our society, economy and polity. Let us stand with Gautam, Anand and those who are raising critical voices against the authoritarian regime! It is critical to win this battle of ideologies, for the survival of the people and progressive societies of India, as well as Kashmir.
Gautam Navlakha released a letter before he surrender to Police. His letter is hereunder:
As I prepare to Ieave to surrender before the NIA headquarters in Delhi I am
glad that Justice Arun Mishra and Justice Indira Banerjee gave me another week
of freedom when they passed the order on April 8, 2020. A week of freedom
means a lot in my condition, even in the age of lockdown. Their order resolved
the predicament I encountered in complying with the March 16th order of the
apex court, which obliged me to surrender by April 6th before the NIA, Mumbai.
The lockdown that followed prevented me from travelling. Also there was no
direction from NIA (Mumbai) regarding what I should do under the
circumstances. I know now that I have to surrender myself to the NIA Head
quarters in Delhi.
The Indian Prime Minister has likened the challenge posed by Covid19 pandemic
to a state of "national emergency". Meanwhile the apex court itself recently
intervened in the matter of jail conditions, and issued guidelines to the
authorities regarding the overcrowding of jail inmates and the threat posed to
the prisoners and detenues, jail staff and other personnel assigned jail duties.
This concern remains although no case of Covid19 infection has come from any
jail so far, somewhat reassuring for me. However, I am affected by the fear that
my near and dear ones harbour about my captivity amidst Covid19.
I cannot help but feel disappointed that the terse order of the Supreme Court on
8th April had no reference to the Covid19 pandemic, which has overtaken the
world, including all of us in India.
However, I can now begin to face the actual legal process, which accompanies
cases where provisions of Unlawful Activities (Prevention) Act are invoked. Such
Acts turn the normal jurisprudence upside down. No longer is it the axiom that 'a
person is innocent unless proven guilty'. In fact, under such Acts, 'an accused is
guilty unless proven innocent'.
Draconian provisions of UAPA are not accompanied by stricter procedures
regarding evidence, especially electronic, considering the stringent punishment
provided for under the Act; the procedures, which otherwise provide tighter
rules regarding evidence, are instead made elastic. Under this double whammy,
jail becomes the norm, and bail an exception. In this Kafkaesque domain, process
itself becomes punishment.
My hope rests on a speedy and fair trial for myself and all my fellow co-accused.
This alone will enable me to clear my name, and walk free, having also used the
time in jail to rid myself of acquired habits.
Until then,
"Won't you help to sing
These songs of freedom
'Cause all I ever have
Redemption songs
Redemption songs.
These songs of Freedom……" (Bob Marley)