Mati Ullah Khan
Though once embattling Pakistan has now reached on the verge of vanquishing the polio virus, and 2018 is being deemed as poised to bid adieu to the infectious disease. But ramifications of polio will continue to affect those paralyzed by poliomyelitis probably for whole life.
Unfortunately, Pakistan along with Afghanistan and Nigeria is still suffering from this endemic viral infection; however, all out-efforts and tangible measures have led the Country to witness visible progress against polio.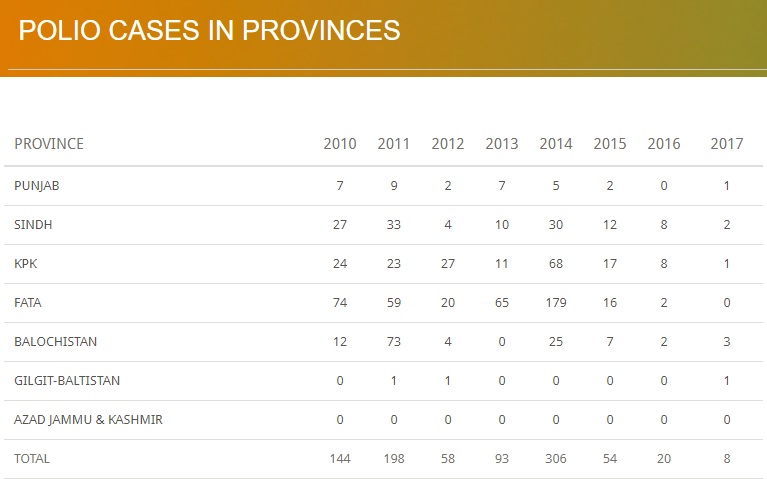 But was it all that simple?, and the answer is big "No". Primarily having deep-rooted conservative societies, illiteracy and militancy have over the years remained hurdles in endeavours to eradicate polio from the Country. Pakistan's northwestern Khyber Pakhtunkhwa Province and tribal region adjacent to neighboring Afghanistan had to suffer much more than other parts of the Country in this regard.
If the dwellers of Khyber Pakhtunkhwa, FATA and far-flung rural areas refused to welcome anti-polio initiatives and deprived their children from being administrated polio vaccine on self-conceived religious grounds or linking it to women's infertility, hard-line religious groups also banned the polio vaccination in areas of their influence. Multiple causalities of polio workers in various parts of the Country have been undeniable evidence of hard-liners' approach towards halting the anti-polio drives.
Among other repercussions caused by illiterate approach and militancy towards polio immunization, paralysation of polio vaccine-deprived persons is undoubtedly the harshest reality, they have to deal with throughout their lives. Two brothers Niaz Ali and Fazal Bahadur – in their 40s and hailing from Gujarat Village in Khyber Pakhtunkhwa's Mardan District – are also among such victims whose parents resisted the polio vaccination to them while they were minors.
Resultantly as they became older and crossed 30s, they suffered from post-polio effects like paralysis. It not only caused them deprivation of happiness of life but also brought them to face livelihood issues. They are disabled and cannot walk but yet they are determined to make a living by stocking their small mud-built shop adjacent to their house with supplies.
"We don't beg and are embarrassed asking someone for money. We bought chips and candies costing a few thousand rupees and put these items in the shop. We need someone to buy more supplies," the 40-year old Niaz Ali said who has done his matriculation but couldn't find a job even on the disabled quota. His 42-year-old brother Fazal Bahadur helps him run the shop.
Both brothers were healthy and used to work in the agriculture fields until some years ago. But doctors have now told them they can't be treated.
Taking to Dispatch News Desk (DND) news agency, Niaz Ali told that he approached almost every social and health institutions for help but their worries were not heard as none of the high-ups cared to consider their appeals.
Niaz Ali said that now their old father Diyar Khan and mother take care of their needs even though they have no steady sources of income.
Those desirous of helping them can contact Niaz Ali on mobile phone number 0305-6315310