Minal Khan is one of those actresses whose silence has made noise the most. She has been a part of countless rumors and speculations. Sometimes it is because of her relationships and the other times it is because of how she dresses up. This time around, she finally decided to clap back at a hater who needlessly gave a remark that was not required.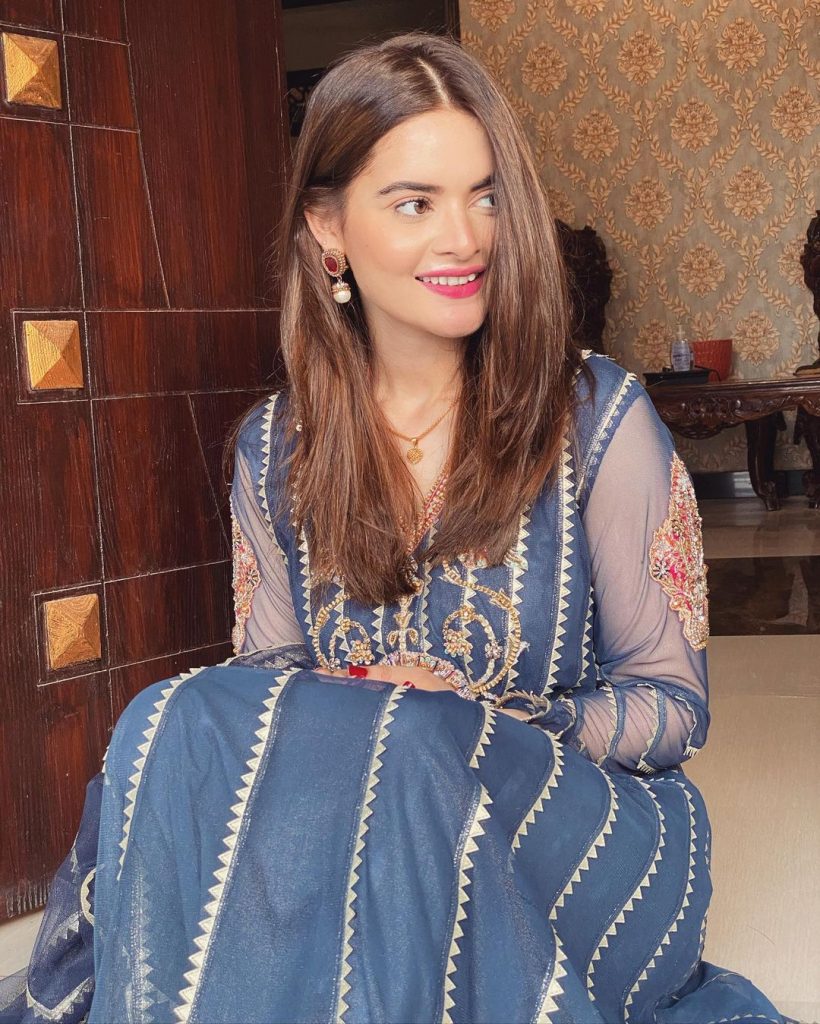 What did this hater say and how did she reply? Continue reading to find out:
Minal Khan's Latest Instagram Post
If there is one thing about Ms. Khan that is totally lit, it is her Instagram account. From her recent campaigns to traveling, drama projects to shoot, family time to fun, it is all there. There are countless fans and followers who stay updated with her Insta account to get a glimpse of what she is doing. Recently, Minal posted a BTS video from a shoot she did for Nabila Salon and Sana Safinaz collection. Not only did the actress look stunning but she was the epitome of grace and beauty.
Here is the Instagram post I am talking about:
View this post on Instagram
What Did The Troll Say?
Within seconds obviously, her post was bombarded with comments of appreciation and love. While there were most people who complimented her, a follower did not go unnoticed when she decided to bash her for exposing her body:
Here is what the comment read:
"Astagfirullah in this shoot you showed your stomach… how shameful is this… you don't even care about your father… all other celebrity's are getting better you are getting worse… and your not pretty your makeup its just cheap."
Since this comment might have stirred up Minal's emotions on her recently deceased father, she decided to screenshot it and post it on her story. Alongside the screenshot, she wrote:
"They will come and bash you for no particular reason, with 0 followers LOL."
Here is the screenshot of the story: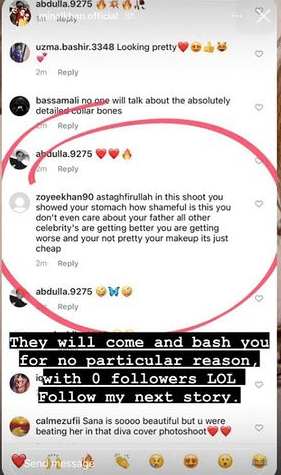 Minal Khan Claps Back!
Well, all of us have our opinion on what's right and wrong, and all of us are indeed entitled to it as well. But, what really goes beyond my understanding is why people choose to preach actors and actresses and that too in a rather disgraceful manner.
Anyone who acts or models on such a scale is a grown-up fully capable of making their own decisions and knowing what their religion says about such things. Hence, no fan or follower should troll or spread hatred. And I do think that Minal Khan has made her point strongly.