By Agha Iqrar Haroon
Time moves on so the history but Afghanistan is a unique place where history moves around in a circle.
Today, after 26 years, the situation is almost similar to 1995. Taliban are swiftly gaining ground; defeating their opponents (Afghan National Army, ISIS, etc) and capturing village by village and town by town. Afghan National Army has announced the formation of another militia under the banner of "National Mobilisation".  
I first covered the Afghan war in 1995 when militia groups were fighting with each other and the newly formed alliance namely the Taliban was swiftly gaining ground; defeating warlords and capturing village by village and town by town. Afghanistan's eastern Nangarhar province was the main battleground and I remember how did Nangarhar Governor Abdul Qadeer fly away in a night with his entire luggage to an undisclosed location from Jalalabad airport in a chartered flight? It was the same night when our team of ETN News was travelling to Jalalabad from Peshawar. The road from Peshawar to Kabul was heavily mined; therefore, it had always been a journey to heaven or hell and we used to travel at night to avoid constant and routine fighting between Taliban and other warlords near Mahipar Power dam on River Kabul in Surobi district because this was a narrow path and usually remained under attack by anti-Taliban ward lords. The most dangerous area was Tang-e Gharu (a Narrow cave-like place) where we came under attack twice in five months' travel. Our journey on 152 kilometers long (94 miles) Jalalabad-Kabul Road used to take four to five hours and my friend and producer Shahid Nadeem always called this journey "the last journey of life" and our last journey continued for over 2 years for war coverage. The road from Jalalabad to Kabul was under the control of three militias; Gulbuddin Hekmatyar, Burhanuddin Rabbani, and Taliban, and one can understand the risk of traveling through these infighting groups. By May 1996, Rabbani and Hekmatyar agreed to a power-sharing formula and Hekmatyar became the prime minister but by this time, the Taliban had consolidated their control on Jalalabad and Kabul.
We witnessed former President Najibullah hanging at the Traffic signal (might be October 1, 1996 afternoon). He was captured from UN Club on the night of September 26 along with his brother Shahpur Ahmadzai. His dead body kept hanging for a week or so and every day his dead body was humiliated with stone-throwing and bullet spraying. Taliban were not ready to allow anybody to bury his dead body according to Islamic practices because he was Kafir (infidel) for the Taliban. I remember that the International Committee of the Red Cross bargained for the collection of his dead body and he was then buried along with his brother in Gardez in Paktia Province.
News coverage from Kabul to Panjshar Valley had its altogether different dimensions. Here we had to deal with militias of Ahmad Shah Massoud, Abdul Rasheed Dostum, and the Taliban. From Charikar onward, you could never know who would attack you. From Jabal Saraj onward, fighting had different dimensions because areas of Parwan, Baghlan, and Bamyan were battlegrounds of light to heavy artillery and one day our entire team (that was supporting CNN team) comprising of this writer, Christiane Amanpour, Aneeta Pratab, Mahboob Ali, Shahid Nadeem, and O'Neal came under tank attack near Charikar, resulting in bruises to Aneeta who fell down while running for shelter.
The reason behind providing details of our war coverage during 1995-97 was actually giving an understanding to readers that Afghanistan was divided and ruled by many militias and warlords, and now the situation is becoming the same after the Afghan government has launched an initiative it called the "National Mobilisation", arming local volunteers. These volunteers equipped with RPGs and other weapons are similar to militias manned by several warlords during the 1992-1997 Afghan civil war. In the past, militias were formed to safeguard religion and regions, and now this so-called "united front" has been formed to "strengthen peace" and "safeguard the republic system".
The soldiers of the "National Mobilisation" would work for those who would pay them.
Bill Roggio, who is a senior fellow at the US-based Foundation for Defense of Democracies, rightfully says that the formation of militias is a "clear admission of the failure of the security forces … most certainly an act of desperation".
"The Afghan military and police have abandoned numerous outposts, bases, and district centres, and it is difficult to imagine that these hastily organised militias can perform better than organised security forces," he wrote.
According to the Afghan Taliban Spokesman Zabihullah Mujahid, they have seized control of Afghanistan's 165 districts out of 471 while endeavors are afoot to take control of 55 more districts where the Afghan National Army are leaving their pieces of equipment behind and joining the Taliban. After 20 years of war that killed 241,000 people including Americans, and cost the United States US$ 2.26 trillion till April 2021, 180,000 troops of the Afghan National Army are running out of the battlefield.
The above-mentioned figures are from "The Costs of War Project" of Watson Institute and Boston University's Pardee Center.
The Afghan National Army was raised and trained by the US-led NATO forces. The ANA is divided into seven corps, with the 201st (Kabul), 203rd (Gardez), 205th (Kandahar), 207th (Herat), 209th (Mazar-i-Sharif), 215th (Lashkar Gah), and the 217th in the North.
The most important question is that why Kabul needs militias and volunteers to fight against the Taliban when it had a state army trained by NATO and US forces?
A former adviser to the Afghan government Torek Farhadi while talking to Al Jazeera News claimed that the National Mobilisation is a recipe for future generalised violence. He is of the view that the government has promised to pay the militias even as official security forces complain salaries are often delayed for months.

He claimed that this is another technique of President Ashraf Ghani to eat away funds meant for militias.
The Afghan Scholar Niamatullah Ibrahimi in his report titled "Divide and rule: state penetration in Hazarajat (Afghanistan) from the monarchy to the Taliban" published by the Crisis States Research Centre in January 2009 rightfully indicates that the state building is often analyzed in terms of institution building, the expansion of bureaucratic structures of territorial control and governance, and the development of a system for the delivery of benefits and services. While there is no question that this is an important aspect of the edification of the modern state, there is a darker and messier side to state-building which is often conveniently overlooked.
Two decades of investments, training, and spending a huge sum of over US$ 2 trillion brought a militia system again in Afghanistan. What has been achieved by the world by killing over 241,000 people?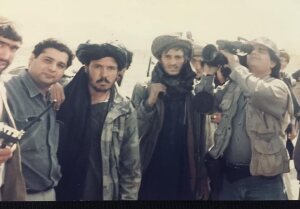 Note: Agha Iqrar Haroon is a senior journalist from Pakistan working in the field since 1988. He covered the Afghan war during 1995-97 and then during 2001-2006 while working with national and international media outlets including WTN News Agency, ETN News Agency, the News International, Abu Dhabi Television, and Al-Jazeera News.
Disclaimer:
The views and opinions expressed in this article/Opinion/Comment are those of the author and do not necessarily reflect the official policy or position of the DND Thought Center and Dispatch News Desk (DND). Assumptions made within the analysis are not reflective of the position of the DND Thought Center and Dispatch News Desk News Agency.