With Eid-ul-Azha approaching us in all its glory, food is undoubtedly one of the town's most trending topics. From Nihari, Tikkay, Paaye, Koftay to other countless tantalizing dishes, special Eid menus are being designed in all our houses as we read this. Most importantly, when Barri Eid is mentioned, how can we forget about the legendary barbecues? The ones that start from Eid Day 1 and go on till forever- we hate to admit how much we love those eventful nights and juicy bites!
Not only this, but as the day comes closer, we know the most happening place in town will be our bakra mandis. From goats, cows, camels, sheep- each species of Qurbani animal is up for grabs all the way till the very last night before Eid. Where some people find the market experience exciting, this activity can in fact be quite nerve-racking for most of the people. Sellers of all kinds meet buyers of all kinds and bargain for the quality and size of meat that will be bought out of their slaughter houses. No matter how informed a decision most of us think we're making, there's usually a high risk of missing out on visible loopholes that either become an added burden to our pockets or end up being a significant part of family dinner stories narrated on every Eid, for an entire lifetime.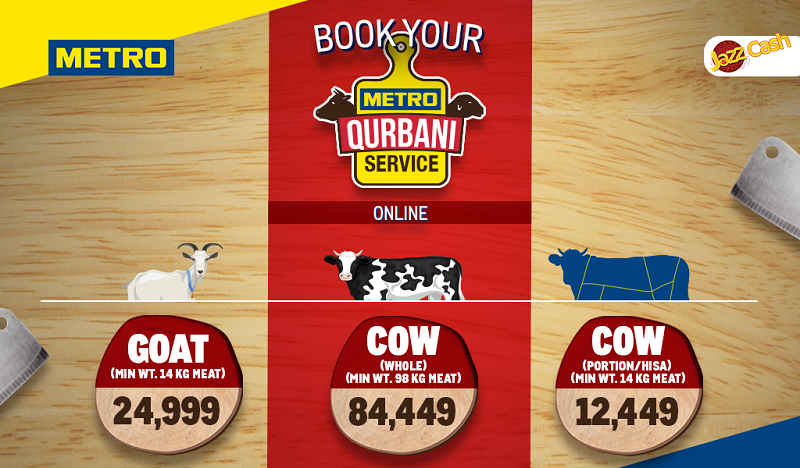 This Eid, however, there's great news that will make it to those great dinner stories! METRO Cash & Carry has introduced yet another customer centric convenience of Qurbani Service to their Online & Offline stores this Eid. For Lahore, visit: http://goo.gl/3gRivX  and for Islamabad, Faisalabad, and Karachi visit: https://goo.gl/sjxbtx to see for yourself. Gone are the days when you'd run after butchers on Eid! All you have to do now is choose your animal, pick the day you'd like to have your meat delivered to you on Eid, and sit back to enjoy the festivity! Qurbani is now simpler with METRO, making your celebration worthwhile! No added hassle of dealing with the mess of arranging Qurbani time with your local "qasai", then spending the whole day of Eid sorting meat, now you can let METRO Online do the work while you reap the benefits and enjoy Eid as it is meant to be!
METRO Cash & Carry offers halal & hygienic meat at the lowest rates so you can save yourself the hassle of bargaining yet, keeping quality of your purchase intact. Not only this, but METRO is also relieving you of your religious obligation with transparent compliance of the Shariya Law.
So waste no time and book your Qurbani animal with Metro Online now, as the campaign ends two days before Eid!