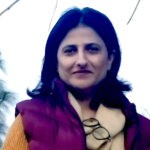 By Shazia Anwer Cheema
"Freedom will never be obtained through crying and lamenting; it will only come through hard work….No nation has ever secured it overnight; a sensible man will not despair, but work even harder," said Karel Havlicek, who was a politician and writer and a member of the Czech delegation in 1848 which hoped to establish a provisional government for Bohemia under a federal Austria.

I had always been a student of linguistics, semiotics, and philosophy of Communication therefore, understand that struggle for the survival of national identity plays a pivotal role in the journey of vernacular to a full-fledged language.  Havlicek believes national identity does not simply involve 'being Czech', rather it needs building the nation according to certain principles.
I had an idea of the ruling mechanism of the former Soviet Union but my knowledge was very sketchy about Communist Era and how did it try to erase the national identities of regions under its subjugation? I found the answer when my interest in the languages and cultures of the former Soviet Union republics got enhanced by studying and meeting friends from Ukraine, Azerbaijan, Hungary, Czech Republic, and many more from the former Eastern Bloc. I strongly feel that the resilience level of these nations was too high so they survived under extreme suppression and subjugation of the former Soviet Union.  I can call Central and Eastern Europe a "Land of Resistance".
May 28 is celebrated as Republic Day by Azerbaijanis because they found their first Republic on May 28, 1918. Though this Republic was short-lived and Soviet force occupied Azerbaijan on April 28, 1920, but this era laid the foundation of today's Independent Azerbaijan.
Development Observer and writer Agha Iqrar Haroon in his academic article titled "May 28, 1918, was the seed for Independence of Azerbaijan" said that Azerbaijanis never stopped their fight for an independent state although they had to give blood of their children throughout the history until they got the day of their independence.
Haroon writes:
"The fire of an independent state was burning inside every Azerbaijani under the cruel rule of USSR. Azerbaijanis got a chance for securing independence when Russian Czar died.  A national movement started from Baku for an independent state for Azerbaijanis. On May 28, 1918, the Democratic Republic of Azerbaijan (DRA) (1918-1920) was proclaimed by Mammad Amin Rasulzadeh. DRA was short-lived and the Soviet Union invaded Azerbaijan on April 28, 1920, but the desire for independence was not defeated.
Like in the Czech Republic, Azerbaijani writers, poets, academia, and youth continued to express disapproval of Soviet rule, and the fall of the Berlin Wall gave optimism to Azerbaijanis that Independence is not far away. On August 30, 1991, Azerbaijan Soviet Socialist Republic (Azerbaijan SSR) declared independence, and the decision of SSR was affirmed by a nationwide referendum in December 1991 and same month on December 26, 1991, the former Soviet Union officially ceased to exist.
Although the Democratic Republic of Azerbaijan survived only 17 months but provided a secular foundation for present Azerbaijan.
One should remember that achievement of DRA was made possible by sacrificing the blood of 12,000 Azerbaijanis including women and children who were massacred by Armenians from March 30- April 2, 1918. This horrific event is recalled in history as the "March Genocide".
Journalist and writer Vugar Seyidov in one of his articles indicated that with the victory of Bolsheviks (Soviet Revolution of 1917), Armenian nationalists started work for implementation of their plans under the banner of Bolshevism. In 1918, the leader of the Russian Bolsheviks, Vladimir Lenin appointed ethnic Armenian Stephan Shaumyan as Extraordinary Commissar of the Caucasus. By that time, the Bolsheviks had already seized power and Russian Bolsheviks and Armenian collaborated for March 1918 Genocide.
The history of Independence is always written with blood so is the history of today's Independent Azerbaijan. The final Independence of Azerbaijan also passed the river of blood and Azerbaijan was invaded on January 19, 1990; almost in a similar way, the Czechs faced it in August 1968 which ended Prague Spring.
Over 26,000 Soviet troops launched an operation called "Strike" (Udar) in Baku and other parts of Azerbaijan in the same way Soviet troops did in Czechoslovakia on August 21, 1968. The only difference between the two is the time span. Czechs had to wait for almost 11 years to get Independence after the 1968 invasion while Azerbaijanis waited only for 11 months and got independence in the same year in December.
History tells us that fascism is a way of life for few; names and individuals are irrelevant. Sometimes its name is Gorbachev and sometimes Brezhnev. Irrespective of names and faces, fascism brings similar kinds of atrocities to mankind.
Take events before Azerbaijan's independence or post-Prague Spring, the only saved memories are of pain and helplessness.
Czech decided to choose a lighter mode of weaponry such as Fine Arts and Performing Arts whereas Azerbaijanis believed in antiquity warfare but in both cases, the take-home message is persistence and resilience.
The persistence and resilience of Azerbaijanis have been demonstrated just months ago where a part of their motherland; Nagorno-Karabakh was recaptured from the illegal occupation of Armenia with the power of love for the motherland. Wounded with landmines and bleeding with heaps of demolition, history again has witnessed that cynical enemies could not stop Azerbaijani valor from taking a step over the active mines in order to reclaim their land.
Nations do not build overnight. National consensus requires political leadership, harmony in the political bloc, and having a clear, tangible, and achievable agenda as a roadmap.
Azerbaijani political system believes in sustainability through peace and tranquility. Tranquility and indoctrination of interfaith harmony are considered as a moral compass from President to ministers to ambassadors; everyone knows that future of coming generations can only be secured by securing one's own land and one's external and internal interests
The thread of leadership seems to transcend the same legacy of ownership and coexistence. The leader of today Ilham Heydar Aliyev has physically manifested this heroic legacy while standing with his armed forces at frontlines during Armenia – Azerbaijan war.
I have observed the top chair's confidence and cooperation as far as in Azerbaijan Embassy Islamabad during my meeting with Ambassador Ali Alizada who emphasized that reclaimed lands will be reconstructed with or without external support, life will be given back to that ruined land and entire political regime and establishment is on the same page
"Freedom isn't something we sit around waiting for, some gift, but our task. We initiate freedom by working and thinking freely; we create it, by providing as something concrete the results of our creation" ——-Vaclav Havel, First President of Czech Republic.
Note: The writer Shazia Cheema is an analyst writing for national and international media outlets. She heads the DND Thought Center. She did her MA in Cognitive Semiotics from Aarhus University Denmark and is currently registered as a Ph.D. Scholar of Semiotics and Philosophy of Communication at Charles University Prague. She can be reached at her: Twitter @ShaziaAnwerCh  Email: shaziaanwer@yahoo.com