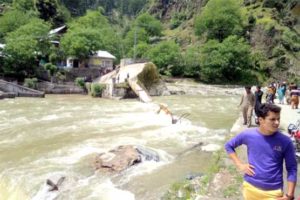 In an unfortunate incident occurred on Sunday in Azad Kashmir's Neelum Valley, 12 tourists – mostly students – were drowned to death after the overcrowded Kundal Shahi Bridge collapsed.
Six tourists were still missing while more than 10 had been rescued after nearly 25 students collectively tried to take a selfie on the bridge which caused its collapse.
Three of the deceased belonged to TIPS College Faisalabad, one to Sahiwal Medical College while two to a Tracking Club, according to the National Disaster Management Authority (NDMA). The information about rest of the deceased was being gathered.
The rescue operation was still continuing in which Pakistan army, navy, rescue 1122, police and local people were taking part.
Meanwhile, the Azad Jammu & Kashmir (AJK) Prime Minister Raja Farooq Haider Khan announced Rs 200,000 compensation for each student died in bridge collapse incident in Neelum Valley.
In a meeting held in Muzaffarabad, Raja Farooq Haider also announced Rs 50,000 for the injured students.
The AJK prime minister directed the concerned officials to take all precautionary measure to avoid such incidents in the future. He also directed the district administration Neelum to provide all requisite guidance to the tourists visiting scenic Neelum Valley.