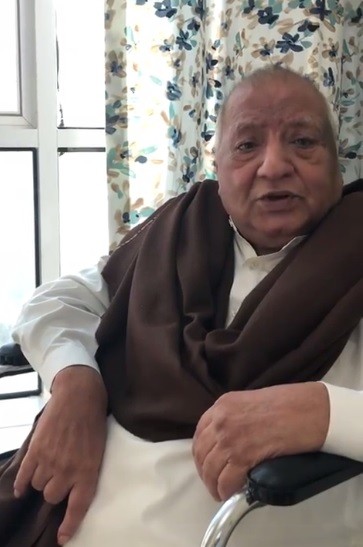 Lahore, Pakistan: Famous film writer, film director, television drama producer, poet, comedian, short story writer, and actor, Athar Shah Khan Jadi would be remembered for ages in the world of entertainment and literature in Pakistan.
Born on 26 July 1943 at Rampur in undivided India, Athar Shah Khan aka Jadi shifted to Lahore after partition along with 8 siblings.
His decaying health put him on the bed for some weeks and he posted last of his on his Facebook on April 17, 2020.
He started his education at Watan High school Lahore and did his Masters in Journalism from Punjab University Lahore. He shifted to Karachi in 1975.
Since his elder brother was already in showbiz, he wrote the story of Urdu Film Baazi which became blockbuster and famous actress Nishu was introduced by him in this film. Aas Pas was another blockbuster film from the direction of Jadi.
Before appearing to Television screen, he already got fame through his Radio Show "Rang hi Rang Jadi kay sang" (colours with Jadi). He worked for 19 long years on Radio Pakistan with his popular show.
After shifting to Karachi, he started writing and producing blockbuster drama series for Pakistan Television Karachi Station and some of his unforgettable dramas include Intezar Farmaiay, Ba Adab Ba Mulahiza Hoshiyar, Lakhon Mein Teen and Haye Jaldi. He got Pride of Performance from the government of Pakistan in 2012.
He died on May 10, 2020 leaving four sons behind him. He was sick for the last many years and was not working.