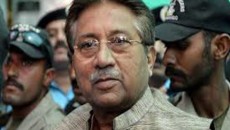 LAHORE, Pakistan: The Lahore High Court (LHC) on Monday declared the formation of the Special Court which sentenced to death the former Army Chief General (retd) Pervez Musharraf in a high treason case as 'unconstitutional'.
Pervez Musharraf was awarded the death Sentence for abrogating the Constitution on December 17, 2018 by a Special Court Bench in Islamabad headed by the Peshawar High Court (PHC) Chief Justice Waqar Ahmad Seth.
The ruling against the Special Court was announced by a three-member Bench of the LHC headed by Justice Mazahir Ali Akbar Naqvi, which was hearing a petition filed against the former president's death penalty in Lahore on Monday.
In its ruling the LHC Bench stated that the treason case against Musharraf was not prepared in accordance with the law.
لاہور ہائیکورٹ:فل بنچ نے آئین شکنی کیس میں خصوصی عدالت کی تشکیل غیر آئینی قرار دیدی
فل بنچ نے خصوصی عدالت کا فیصلہ بھی کالعدم قرار دے دیا pic.twitter.com/FNC6YMgLn2

— PTV News (@PTVNewsOfficial) January 13, 2020
The LHC Bench ruled that the amendment in Article 6 is not applicable to an offense committed before the legislation, referring to the imposition of an Emergency in November 2007 by Musharraf before the 18th Amendment in 2010.
The Bench also declared the Section 4 of the Criminal Law Amendment (Special Court) Act, 1976 null and void.
In addition, it also declared the trial process conducted in the absence of the accused as illegal.
It's worth mentioning here that the ailing former Army Chief and President General (retd) Pervez Musharraf is currently in Dubai, wherein he is receiving medical treatment at a hospital.