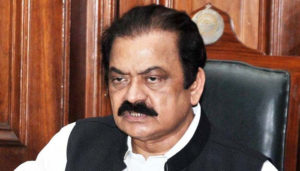 LAHORE, Pakistan: The Lahore High Court (LHC) on Tuesday approved the bail plea of Pakistan Muslim League-Nawaz (PML-N) Punjab President Rana Sanaullah, a sign of relief for the embattled party whose another leader Ahsan Iqbal was arrested by the National Accountability Bureau (NAB) a day before.
The LHC directed the PML-N leader to submit two surety bonds worth Rs 1,000,000 each, and ordered his immediate release in the Drug Trafficking Case.
شکر الحمداللہ
مسلم لیگ ن کے رہنما ایم این اے رانا ثناءاللہ کی ضمانت منظور

— PML(N) Media (@PmlnMedia) December 24, 2019
Rana Sanaullah was taken into custody by the Anti-Narcotics Force (ANF) from the Islamabad-Lahore Motorway near Sukheki on July 1, 2019 for allegedly "possessing a large quantity of drugs in his vehicle" while he was traveling from Faisalabad to Lahore.
لاہور ہا ئیکورٹ نے راناثنا ء اللہ کی ضمانت منظور کر لی
رانا ثنا ء اللہ کو منشیات رکھنے پر گرفتار کیا گیا تھا
عدالت نے رانا ثناء اللہ کو 10،10لاکھ روپے کے ضمانتی مچلکے جمع کرانے کا حکم دیا pic.twitter.com/MwaBqkaJgC

— PTV News (@PTVNewsOfficial) December 24, 2019
Earlier in the day, the PML-N leader Ahsan Iqbal, who was arrested on Monday by the NAB Rawalpindi in the Narowal Sports City Complex Scandal Case, was produced before an Accountability Court in Islamabad.
The Accountability Court Mohammed Bashir granted the NAB a 13-day physical remand of Ahsan Iqbal for alleged corruption in the Narowal Sports City project.
The NAB Prosecutor accused that Ahsan Iqbal misused his powers during the last government and committed corruption in Narowal Sports Complex.
It's worth noting that a two-member bench of the Islamabad High Court (IHC) consisting of the Chief Justice Athar Minallah and Justice Miangul Hassan Aurangzeb also granted bail to the former Finance Minister and PML-N leader Miftah Ismail on Monday (yesterday) in the Liquefied Natural Gas (LNG) Corruption Case.