By Shazia Anwer Cheema
Yasir Jawad has a unique personality and is rather a case study for me, when I was first introduced to him by a mutual friend, I had been told prior to that meeting that the mutual friend would not be responsible for any emotional, or social damage.
I was also told that not many people enjoy his company, which I later discovered, is due to his hard-core self-commitment to defy political correctness. If I must explain in one expression who Yasir Jawad is? My response will be that he is a mirror and the moment it shows us our unpolished and unedited version, most of us find it offensive. So, neither he stops being a mirror nor do people stop judging him.
Nonetheless, I find Yasir Jawad a very decent compassionate human being, just unable to camouflage his or others' true personalities. He could be very good company for all those who have made peace with themselves otherwise he could be a bitter pill to swallow for all who find refuge behind a pretentious mask of any kind.  Knowing a person and reading his biography could be a privilege and a curse at the same time, in one aspect it gives your perception of that person validation and in other aspects, you may find yourself justifying somebody's action of writing this or that. To avoid both I decided to look at Yasir Jawad's biography" Kitab Kahani" from the trajectory of narrative construction. How he has woven the events and what kind of thread he has used could be a better approach.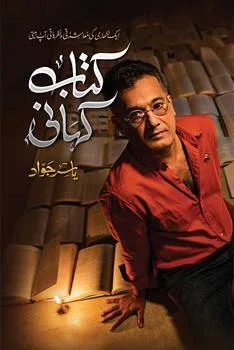 I was already familiar with Yasir's mode of narration by reading his lengthy social media post, and I always find him a surrealist expressionist, here few can argue why not a Dadaist impressionist. My take would be that he seems to internalize the impression life has made on him and then he dismantles and re-create those images in his own surrealist way that's why he cannot be a Dadaist; he does not make a mockery of life or human experiences at the same time does not enter into the dark maze of justifications for different human experiences, to me he plunges into a resolute of some kind, he dissects the life with a blade and then decides not to left it bleeding rather he stitches it back in his own clumsy way and nurtures the wound until it gets scared and he wears that scare like a medal. Yasir Jawad's biography is an expressionist's account, as an expressionist, his biography involves capturing and conveying personal experiences through his internalization process.
His focus is not simply on documenting a chronological sequence of events, but on exploring the subjective experience of those events and how they shaped his own identity.  Due to his mode of narration, he has to use vivid language and harsh nociperception to convey the emotional intensity of his experiences.
The way he unfolds his life layer by layer, the reader can imagine that there is nothing fancy about his life, from early childhood to his entire life he faced unprecedented challenges, he saw the uncountable faces of life yet he surmounted them all not as an idealist who naively creates an imaginary ideal world and tarnishes his own persona to fit into that ideal world, Yasir Jawad comprehends the surrealist impression of life and choose to reciprocate with that impression in the same manner, and that make his biography a narration of life, an account of the trivialities, felicities, and falsehood of our time.
The social and humanistic decadence under the pretense of morality, belief, and conventions. A list of all those dwarfs hidden inside sculpted baroque stereotypes, engulfing paranoia in the guise of self-censorship, white satin-covered filth, and perfumed sprayed stinky wounds.
As I mentioned in the beginning that Yasir Jawad, I know is incapable of being politically correct, as expected he has written unapologetically about himself and about life around him. Yasir Jawad's Biography Kitab Kahani is a haunting and thought-provoking experience at the same time.
In the beginning, I took the liberty of using the word "case study" for Yasir Jawad, I am aware that it could be a crude expression to describe a human being but that is how I see him, a case study of the entire phenomenon of a 21st-century social structure which attributes politics, religion, and culture, by reading his biography you will agree with me. The way he peals the layers of society and social structure while narrating his own life could never be simply a person's account, it is a case study, to further research, ponder and synthesize and it may provide the answer to a complex question; how we have become what we have become? But the answer requires two prerequisites, an ability to learn the Art of Failure and detachment from the longing of being perfect by fitting willfully into the trap of normativity.
The biography "Kitab Kahani" clarifies that putting Normativity on the Throne can never make you normal/perfect (socially) on the contrary it will nurture a breed of self-righteous thinkers, self-proclaimed intellectuals, self-obsessed narcissists, religious goons, and hypocrites perverts. This lead to the same question of how we have become what we have become as a society.