By Syeda Munawara Qazi
Dhaka, Bangladesh: Dhaka Police with the support of counter-terrorism police have arrested killer of blogger Avijit Roy who was butchered to death on 26 February 2015 in Dhaka.
Bangladeshi born Avijit Roy was a US citizen and came to Dhaka to meet his family and was butchered to death in a crowded market when he was coming back after attending Ekushey Book Fair along with his wife.
According to police, killer of Avijit Roy is identified as Abu Siddiq Sohel who fled away to Karalla state of India after killing Avijit Roy. According to unconfirmed information, Abu Siddiq Sohel belongs to Ansar Ullah Bangla Team which has strong link with religious extremists of Karalla. Ansar Ullah Bangla is now linked with Daesh—Islamic State. Police sources claim that Abu Siddiq lived in Karalla for several months before reaching back to Dhaka. "We believe Abu Siddiq is surely link with Daesh chapter of Karalla", claimed police sources.
Police sources said that Abu Siddiq was just operative of the gang while planning of murder was done by Farabi Shafiur Rahman and Touhidur Rahman. It is pertinent to mention that Touhidur Rahman is a British citizen.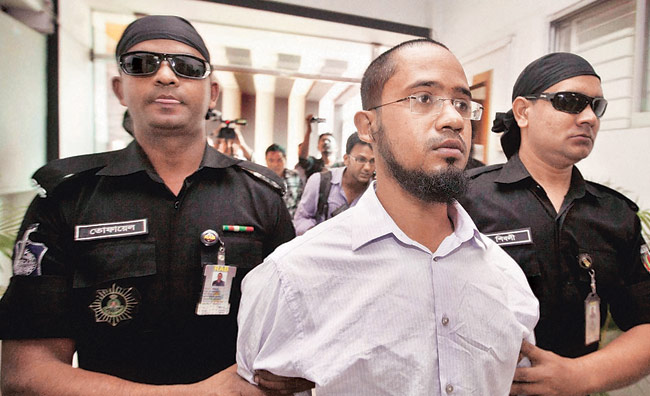 It is pertinent to mention that Bangladeshi police have credible information that terrorism that started in Bangladesh has direct links with Karalla State of India but such information are considered "taboos" because Bangladesh has excellent diplomatic relations with Indian government.
Deceased Avijit Roy was the founder of a group "Mukto-Mona" (freethinkers) which ran a website and was allegedly involved in publishing critical material about religions. Roy had been receiving death threats from Islamist fundamentalists who asked Roy to close down his website.